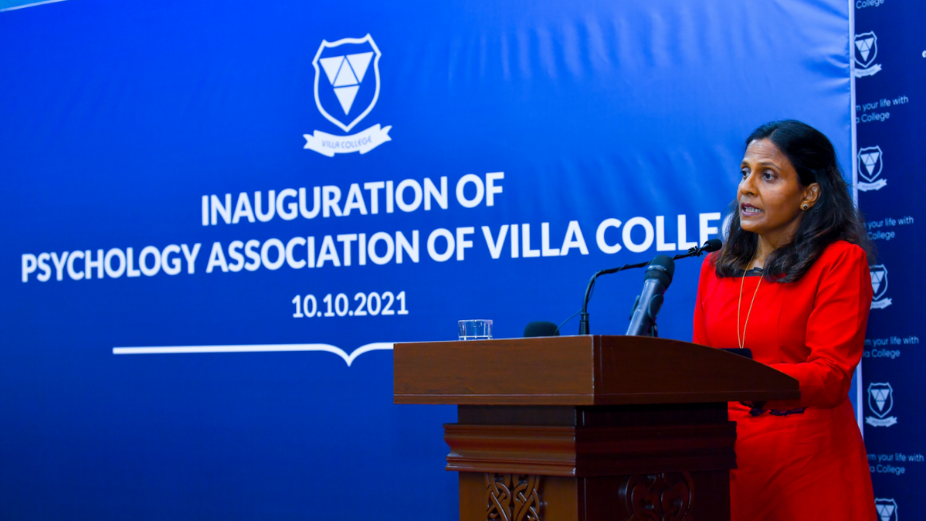 The "Psychology Association of Villa College" has been inaugurated yesterday.
The event was conducted as part of the activities held by Villa College to celebrate the World Mental Health Day 2021. The Psychology Association of Villa College was inaugurated by First Lady Fazna Ahmed.
Speaking at the event, the First Lady stressed on the importance of mental health practitioners adhering to the ethics of mental welfare and refraining from compromising professional standards. She commended the efforts of Villa College in promoting mental health awareness and expressed her hope for Villa College to embrace mental wellbeing as a strategic priority and become the leading college in the efforts to promote mental wellbeing.
Citing studies that show that one in four persons suffer from mental health issues worldwide, the First Lady outlined the need to establish a support system for mental health patients. She added that the Covid-19 pandemic is projected to have a lasting impact on communities worldwide, with international experts in the field predicting a "tsunami of mental health issues" to follow. The First Lady stressed that local experts from the IGMH Mental Health Department have related this to the increasing number of patients being waitlisted for treatment each day. In this regard, she urged authorities to engage in a collaborative effort to provide better mental health services. She emphasised that not everyone needs to be a psychologist to help, but rather everyone can lead with compassion and treat each other better.
The event was also attended by the Rector of Villa College Dr Ahmed Anwar, Vice Rector Ali Najeeb, senior officials, staff members and students.