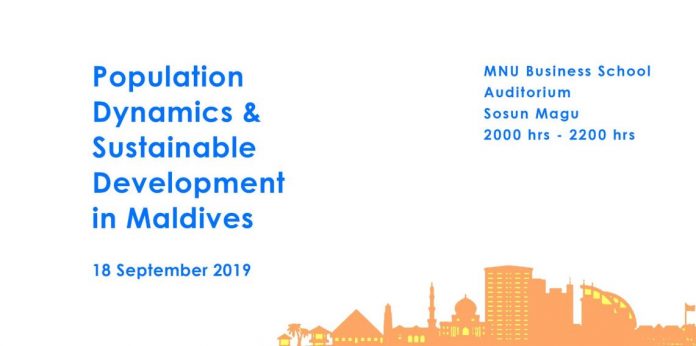 UNFPA in collaboration with National Bureau of Statistics is organizing a public forum on 18th September on Population Dynamics and sustainable development goals in the Maldives. The forum will take place at MNU Business School Auditorium at Sosun Magu from 20:00 pm – 22:00 pm.
Former Vice-Chancellor of Colombo University, Professor Lakshman will give a lecture about the specific societal issues in the Maldives that are directly linked to the 17 Sustainable Development Goals and highlight the impact of the current population dynamics.
He will further give an insight on reaping benefits of the demographic dividend and ways we can overcome challenges to ensure the right to development is granted to all.
Professor Lakshman Dissanayake is a senior professor at the Department of Demography, University of Colombo, with an academic background in population and demography. He also has several prestigious accolades in the field of research and contributes to the region as a visiting professor.
UNFPA plays a pivotal role in ensuring that population trends and dynamics are highlighted at a policy level to inform national and sub-national decision-making. Population development and its interconnected themes of aging, gender and sexual and reproductive health and rights represent some of UNFPA's core focus areas.
This year marks the 25th anniversary of the milestone International Conference on Population and Development. In November, global actors are expected to get together in Nairobi to recommit the promises made in the context of sustainable development goals.