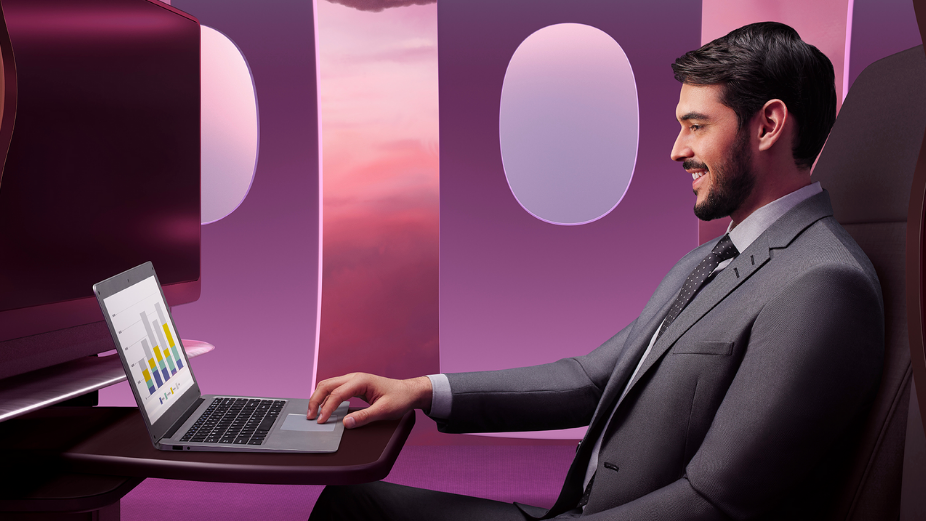 Qatar Airways has revamped its "Beyond Business" corporate rewards programme to offer benefits to more businesses. First launched in January 2019, "Beyond Business" catered mainly to the corporate travel needs of Small and Medium Enterprises (SME). The new and improved "Beyond Business" caters to companies of all sizes, offering greater flexibility and tailored business travel solutions.
Soft-launched in July 2021, feedback on the new "Beyond Business" has been positive, and the updated programme is now officially launched and features five exclusive tiers, Elevate, Accelerate, Ascent, Advance and Achieve. Corporates have the flexibility of enrolling into the programme at the entry Tier Elevate level for free, without annual spend commitments or access higher Tiers and tailored benefits with an annual minimum spend commitment.
Beyond Business members can earn Qrewards and redeem for flights and more, in addition to special savings and flexibility, while employees are concurrently entitled to earn personal frequent flyer points under Qatar Airways Privilege Club. The "Beyond Business" programme also features dedicated account management and online portal, priority baggage handling for employees traveling in economy class, Privilege Club tier status offers and recognition for a seamless business travel experience.
Qatar Airways Group Chief Executive, His Excellency Mr Akbar Al Baker said: "The Beyond Business programme has been well-received since its launch in 2019. Qatar Airways is proud to be the first airline to roll out such unparalleled flexibility and tailored travel solutions for businesses worldwide. Qatar Airways strives to be the world's best airline offering the best business travel solutions, and the revamped Beyond Business programme is set to be the best in category to all businesses alike. "
The national carrier of the State of Qatar continues to rebuild its network, which currently stands at over 140 destinations. With more frequencies being added to key hubs, Qatar Airways offers unrivalled connectivity to passengers, making it easy for them to change their travel dates or destination as required.
A multiple award-winning airline, Qatar Airways was announced as the 'Airline of the Year' at the 2021 World Airline Awards, managed by the international air transport rating organisation, Skytrax. It was also named 'World's Best Business Class', 'World's Best Business Class Airline Lounge', 'World's Best Business Class Airline Seat', 'World's Best Business Class Onboard Catering' and 'Best Airline in the Middle East'. The airline continues to stand alone at the top of the industry having now won the main prize for an unprecedented sixth time (2011, 2012, 2015, 2017, 2019 and now 2021). The airline's hub, HIA, was recently recognised as the 'Best Airport in the World 2021', by the Skytrax World Airport Awards 2021.
In addition to this, Qatar Airways has become the first global airline to achieve the prestigious 5-Star COVID-19 Airline Safety Rating by Skytrax.
This follows the success of HIA as the first airport in the Middle East and Asia to be awarded a Skytrax 5-Star COVID-19 Airport Safety Rating. These awards provide assurance to passengers across the world that the airline's health and safety standards are subject to the highest possible standards of professional, independent scrutiny and assessment. For full details of all the measures that have been implemented on board and at HIA, please visit qatarairways.com/safety.