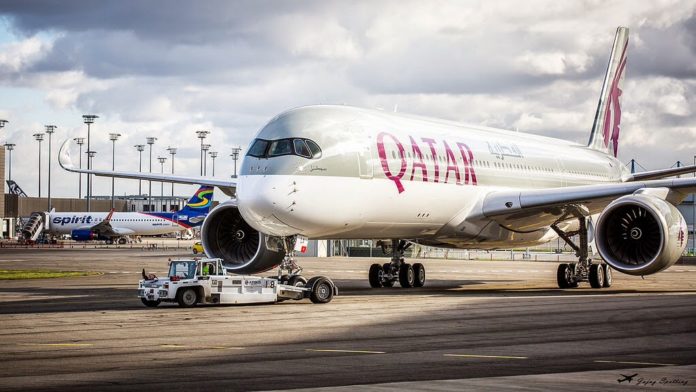 Qatar Airways has started their operations to and from Maldives with one of the world's most modern aircraft; the Airbus A350.
Flight QR 674 departed from Hamad International Airport (Doha) at approximately 8:24 am on the 31st of October 2107 (Tuesday) and landed at Velana International Airport, Maldives at 15:09 pm. The total flying time for the journey was 4 hours and 45 minutes. According to local plane spotters "Maldivian Plane Spotters," the flight commander is a Maldivian national Mr Mohamed Anwar (Tholla) on the inaugural A350-941 flight.
Qatar Airways was the launch customer for the A350 on the 15th January 2015, and the airline also has over 80 of them on order between the A350-900 and A350-1000. Currently, Qatar Airways has the most number of A350's on order from Airbus, more than any other airline.
The Airbus A350 XWB is a family of long-range, twin-engine wide-body jet airliners developed by European aircraft manufacturer Airbus. With extra-wide body, it offers more space with wider seats and features state-of-the-art technology. Coupled with Qatar Airways award-winning service, the Qatar Airways A350 is poised to be the aircraft for the next generation.
While Flight QR 674 and QR 675 commenced its operation on the 31st of October, QR 672 / QR 673 will commence on the 3rd of November 2017 for the route DOHA-MALE'-DOHA.
It's an extremely proud moment for the Maldives as it received the very first A350 on a scheduled basis to Velana International Airport. Cyprea Pvt. Ltd. Is the general sales agent of Qatar Airways assigned to the Maldives. Qatar Airways is popular amongst travellers from Europe who often transit in Doha before flying to the Maldives.