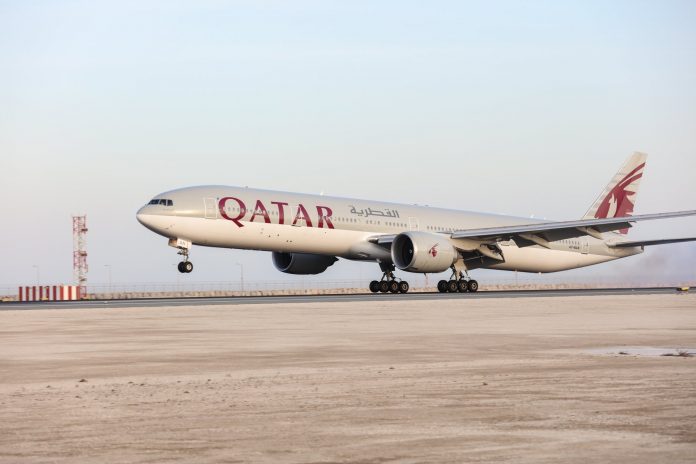 Qatar Airways European network rebuild continues with the resumptions of four weekly flights to Lisbon, Portugal starting 14 August 2020. The flights will be operated by the airline's modern, fuel-efficient Boeing 787 Dreamliner offering 22 seats in Business Class and 232 seats in Economy Class.
Qatar Airways Group Chief Executive, His Excellency Mr. Akbar Al Baker, said: "We are pleased to resume flights to Lisbon, further expanding our European network. Lisbon is renowned for its extensive history and culture, boasting a rich artistic and gastronomic heritage and we look forward to support the recovery of its tourism and trade industries. Passengers from Portugal can also look forward to connecting seamlessly and safely via the Best Airport in the Middle East to more than 30 destinations across Africa, Asia-Pacific, the Middle East and South Asia."
The resumption of Lisbon services will see the airline's operations expand to 225 weekly flights to 33 gateways in Europe with the following weekly operations:
Amsterdam (daily flights)
Ankara (three weekly flights)
Antalya (two weekly flights)
Athens (daily flights)
Barcelona (10 weekly flights)
Belgrade (four weekly flights)
Berlin (four weekly flights)
Bodrum (two weekly flights)
Brussels (three weekly flights)
Budapest (three weekly flights)
Copenhagen (five weekly flights)
Dublin (three weekly flights)
Edinburgh (three weekly flights)
Frankfurt (two daily flights)
Helsinki (three weekly flights)
Istanbul IST (two daily flights)
Istanbul SAW (11 weekly flights)
Larnaca (two weekly flights)
Lisbon (four weekly flights starting 14 August)
London LHR (three daily flights)
London LGW (daily flights starting 20 August)
Madrid (daily flights)
Manchester (two daily flights)
Milan (10 weekly flights)
Munich (daily flights)
Oslo (daily flights)
Paris (two daily flights)
Prague (three weekly flights)
Rome (nine weekly flights)
Stockholm (daily flights)
Vienna (five weekly flights)
Zagreb (three weekly flights)
Zurich (daily flights)
The airline's mix of modern fuel-efficient aircraft has meant its network has never fallen below 30 destinations throughout this crisis and has enabled the airline to adapt its plans and quickly resume routes to rebuild its global network. By optimizing its mix of aircraft and grounding its A380 fleet, the airline continues to fly only the right sized aircraft on all routes to Europe, reducing its environmental impact by offering sensible and responsible capacity to meet both passenger and cargo demand. The airline's fleet of 49 Airbus A350 and 30 Boeing 787 aircraft are the ideal choice for the most strategically important long-haul routes to the Americas, Europe and Asia-Pacific regions.
The airline's internal benchmarks identified that the A380 emitted up to 80% more CO2 per block hour on certain routes to Europe with the A350 saving around 16 tonnes of CO2 per block hour. Until passenger demand recovers to appropriate levels, Qatar Airways will continue to keep its A380 aircraft grounded, ensuring it only operates commercially and environmentally responsible aircraft.
According to IATA data, Qatar Airways became the largest international carrier during the peak of the pandemic between April to June by fulfilling its misson of taking people home. This enabled the airline to accumulate unrivalled experience in carrying passengers safely and reliably and uniquely positioned the airline to effectively rebuild its network. The carrier has stringently implemented the most advanced safety and hygiene measures on board its aircraft and in Hamad International Airport – from introducing enhanced PPE suits for cabin crew, to becoming the first airline to require passengers to wear face shields in addition to face coverings.
Aditionally, passengers flying Business Class on Qsuite equipped aircraft can enjoy full privacy, including sliding privacy partitions and fully closing doors. Passengers can also opt to use the 'Do Not Disturb (DND)' indicator in their private suite, if they wish to limit their interactions with the cabin crew. Qsuite continues to be available on flights to more than 30 destinations including London, Sydney, Singapore and Kuala Lumpur.
To ensure travellers can plan their travel with peace of mind, the airline has also extended its booking policies to offer even more choice to its passengers. The airline will allow unlimited date changes, and passengers can change their destination as often as they need if it is within 5,000 miles of the original destination. The airline will not charge any fare differences for travel completed before 31 December 2020, after which fare rules will apply. All tickets booked for travel up to 31 December 2020 will be valid for two years from the date of issuance. For full terms and conditions visit qatarairways.com/RelyOnUs.