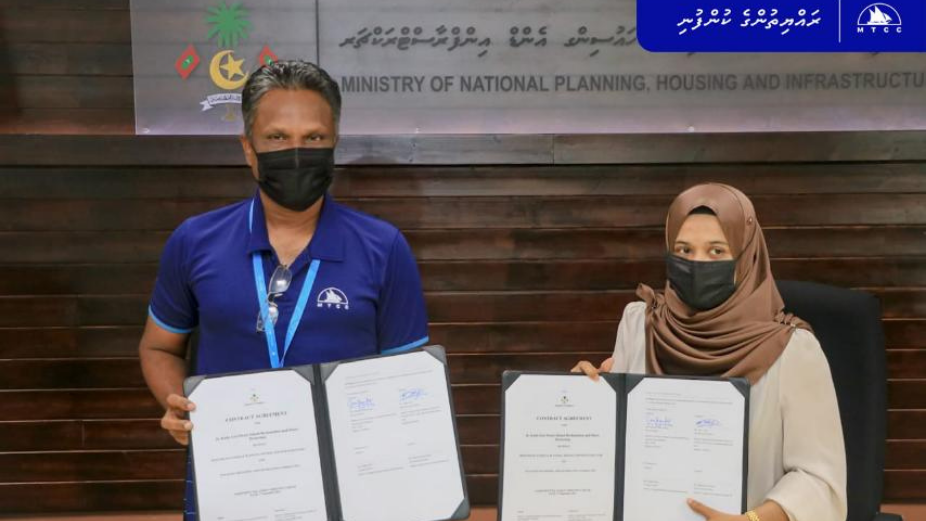 Maldives Transport and Contracting Company (MTCC) has signed with the Ministry of National Planning, Housing and Infrastructure (MNPHI) to execute the R. Alifushi Land Reclamation and Airport Development Project.
CEO of MTCC Adam Azim signed on behalf of MTCC and Director General Ms. Fathimath Shaana Farooq signed on behalf of MNPHI. MP for Alifushi Constituency Mohamed Rasheed Hussain (Bigey) graced the event.
Scope of the project includes reclamation of 50.5 hectares of land, construction of 1200m runway, taxiway, apron with shoulder and service roads, shore protection, construction of a 2871 revetment and a 480m groyne. The value of the project is MVR 451. 61 million and the project is to be completed within 750 days.
R. Alifushi Land Reclamation and Airport Development project will pass a milestone in the company's 40 years long history as a landmark and the largest project awarded to MTCC by the Government of Maldives. We believe this project is a testament of the trust and confidence of the government towards MTCC.