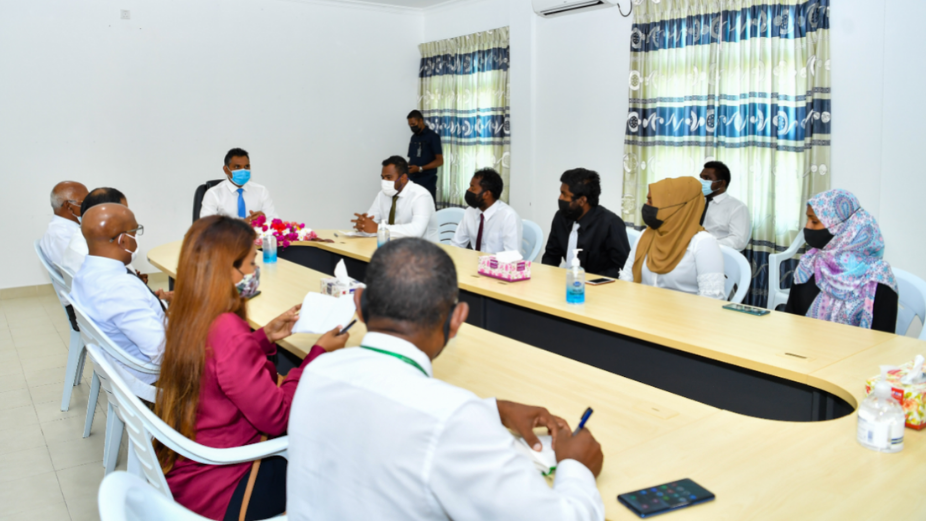 Maafushi Island Council met with Vice President Faisal Naseem today afternoon and stated that rapid development observed in the island by the current government's projects was incomparable to projects in the past. The meeting, held at Maafushi Health Centre, was also joined by the President of Hanimaadhoo Women's Development Committee (WDC) and senior officials of Maafushi Health Centre.
Speaking at the meeting, Councillors and attendees from other institutions shared concerns and discussed issues pertinent to the needs of the residents of the island. They stressed the need to establish a sustainable waste management solution, upgrading the island harbour, and the need for a resident gynaecologist to improve healthcare. They also deliberated on several other topics correlating with the socio-economic development of the island community.
The Vice President addressed the concerns raised by the members of the Maafushi Island Council, affirming that the government would collaborate with appropriate ministries to address the concerns and other socio-economic difficulties. Speaking at the meeting Vice president noted that, Maafushi was one of the earliest hubs developed in the Maldives under local tourism. Speaking in this aspect, the Vice President stressed the importance of building and promoting responsible, productive, and diligent citizens to sustain the market in the long term.
The Vice President was accompanied in the meeting by the Minister of Health, Ahmed Naseem, the Minister of Home Affairs, Sheikh Imran Abdulla, and Minister at the President's Office, Ahmed Sameer.