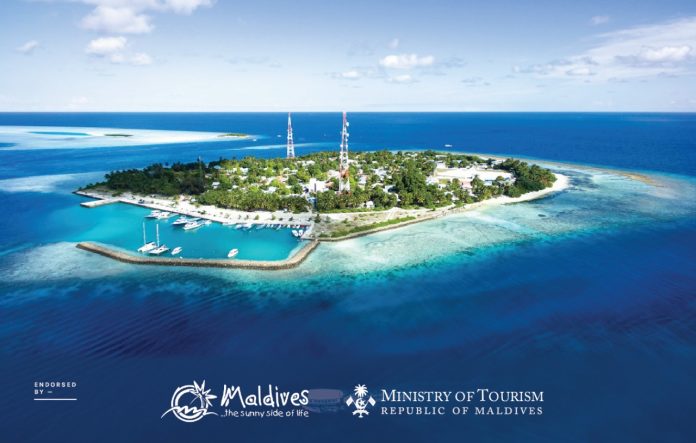 Located at the heart of the Maldives, Rasdhoo – the capital of North Ari Atoll is a small and beautiful island, approximately half square kilometers and home to around 1500 locals. Transfer to and from Rasdhoo is very convenient as it is just an hour from Velana International Airport and the Capital city Male' via speedboat which is operated twice daily. Apart from the scheduled speedboat rides, public ferry is available twice a week. In addition, a 15 minute airplane ride with a birds eye view is available for anyone who wants to take this exquisite option for any reason.
As we speak, the island currently hosts 25 guest houses with a capacity of about 200 rooms. We also anchor 5 dive centers, 2 watersports centers and 4 restaurants. 100 percent of the local tourism establishments are owned and promoted by local businessmen. This, together with the fact that most of the staff providing assistance are experienced and trained through their previous employments at nearby resorts make Rasdhoo a tourist attracting spot with cutting-edge services.
The most significant building in Rasdhoo is "Masjid-Al-Hudha" also known as the local mosque. To top it all we also acquire a playground which hosts most of the activities and an ancient banyan tree which is about a 3 minute walk from the playground. Arguably the finest of location in Rasdhoo for locals and visitors to spend their afternoons with their kids in a sunny day is the Rasdhoo Children's Park. The people of Rasdhoo treat the visitors as their own family. So don't hesitate to meet them and speak to them about their day to day life. You can also experience their way of life by arranging a visit to a local home via your hotel.
Geographically speaking, Rasdhoo has a lot to offer for travellers with all kinds of interests. "Rasdhoo-Madivaru" – a picnic island located less than half a kilometer away from Rasdhoo is the favourite picnic destination even amongst the locals living in the atoll as well as from the Male' region. The fine white sandy beach is where you can lie to get that summer tan that you really want. So don't forget to pack your sunblock lotion. Also, the destination right next is the heavenly sandbank famously known as the "Madivaru Finolhu" where you can dive into the famous "blue hole" which hosts varieties of marine life. It is also a stunningly beautiful scenery perfect for your selfies and outdoor photo-shoots for memories to bring back home. You can also watch the amazing scenery of sunset from the sands- the orange sea, skies and clean shores making it the highly photogenic place for your instagram. Further, you can experience the beautiful sunrise and sunset from the most relaxing place in the island- Rasdhoo tourist beach, an area allocated for tourists to spend their day basking at the sun and sea.
A trip to Rasdhoo doesn't leave you confined to spending the days tanning yourself on the beach alone. Several excursions are offered such as snorkeling at the Hammerhead shark dive site, Eagle-Ray Sight or even at the world-renowed Madivaru corner dive site. Prepare yourself for a breathtaking adventure on the water, with a wide range of watersports to choose from like manta feeding or swim at the shipwreck- just a 2 minute boat ride from Rasdhoo. All of it available at reasonable prices: a far cry from the hefty charges of luxury resorts.
Fishing is one of the main sources of income in Rasdhoo alongside local tourism. You can experience fishing in one of the local boats and the life of a fisherman simply with the help of your tour guide. But if you feel like taking a break from fishing for any reason, Rasdhoo has other activities, all of which are designed to kick start your day in a Maldivian setting. Although relaxing at the sandbank is something you could possibly do, we have numerous other activities for you such as visiting the home of turtles which is also known as "Fattaru" to see the turtles feeding and relaxing in the sea bed.
Since 2011, with the establishment of the first guesthouse, tourism has blossomed in Rasdhoo. The entire island deserved credit for the transformation of the island for its growth and well-being.
A vacation to the Maldives doesn't have to be limited to luxury water villas or beach bungalows. Today, visiting has become a major item to tick off in the bucket list for every tourist who visits Maldives. Culture, Adventure, Romance… You name it, Rasdhoo's got it. Day by day, tourists who spend their vacation in Rasdhoo increase staggeringly along with their fair share of adventures. Being at the heart of Maldives with affordable and reasonable costs make Rasdhoo one of the most easily accessible local tourism destinations in the country. Let Rasdhoo be your next holiday destination. Whether you wish to relax or to have an adventure and fun, you will not be disappointed. It is time for you to book your ideal holiday in Rasdhoo. Let's make memories that you are going to cherish for the rest of your lives! Let us make each and every moment of your stay count!
Editors note: This content is endorsed by Ministry of Tourism and Maldives Marketing and Public Relations Corporation (MMPRC).