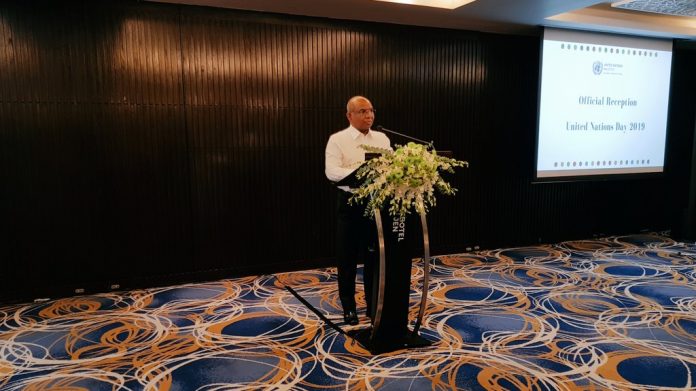 A reception was held on last Tuesday at Hotel Jen to mark the 74th anniversary of the United Nations. The Chief Guest for the reception was His Excellency Mr. Abdulla Shahid, Minister of Foreign Affairs.
The minister was received and welcomed by the host, Dr. Arvind Mathur, UN Resident Coordinator, a.i.
During his keynote address, the Minister of Foreign Affairs highlighted the importance placed by the Government of Maldives on the 2030 Agenda for Sustainable Development. In this regard, the Minister noted the incorporation of the sustainable development goals in the Government's Strategic Action Plan and the National Development Plan that is currently being formulated. The Minister also expressed the Government's hope of seeing all UN agencies delivering as one, with the Government's development agenda as their number one target.
In his welcome remarks, UN's Acting Resident Coordinator, Dr. Arvind Mathur commended the Maldives' active role in the UN, such as bringing to the world's attention, the many challenges that small states face, as well as Maldives' initiatives on climate change, human rights and the sustainable development of Small Island Developing States.
The UN Day message from the UN Secretary General was shown at the reception and a sand art performance on climate action was presented by a student.
The reception was attended by senior Government officials, heads of UN agencies, members of the diplomatic community and civil society.