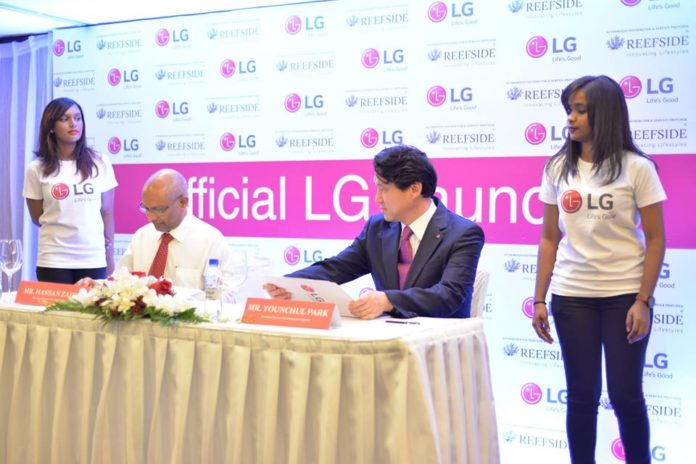 LG, a company that uses the latest technology to invent, create and integrate useful appliances and devices into a consumer's daily routine, has signed an agreement with Reefside Pvt Ltd, that makes them the official distributor and service provider for LG products in the country.
In the function held at Hotel Jen, the agreement was signed by the managing director of Reefside, Mr. Hassan Zahir and on behalf of LG, the managing director of LG Singapore, Mr. Yun Shu Pak.
As per the agreement, the latest LG products along with first class after sales service would be available at Reefside from now on.
The chief guest of this function was the tourism minister, Mr. Noosa Zameer, stated in his speech that Maldivians are lovers of the latest technology and the signed agreement between LG and Reefside will enable the customers and the community as a whole easy and affordable access to LG products and latest technology in general.
During his speech, executive director if Reefside, Mr. Anas Hassan encouraged all local businesses to provide good after sales service and products and build a culture where customers can have easy access to facilities such as this. Furthermore, he stated that while the company is currently celebrating 40th anniversary, the partnership with LG is another huge milestone for the company as well.
Speaking at the fuction, the managing director if LG Singapore, Mr.Yu Shu Pak highlighted that it's an honor that such a company like Reefside has taken initiative and agreed to be the local distributor for their products in the country.
LG was founded in 1958 and specializes in the production and manufacture of TV, mobile phones, washing machines Air-Conditioner and many more household appliances and is a trusted brand by many generations of consumers.