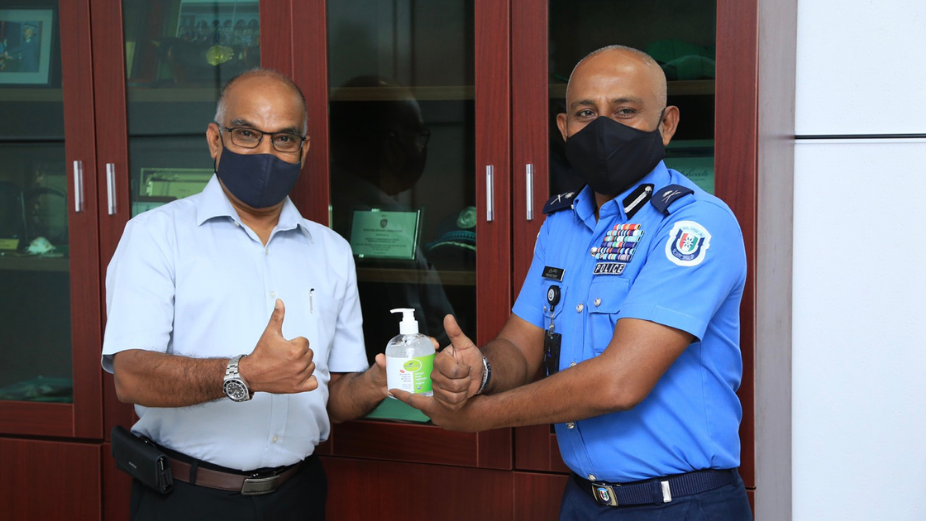 Ref Cool, a company specialising in refrigeration and air-conditioning equipment's and spares, donated 1000 face masks and 360 bottles of May Care brand hand sanitisers to Maldives Police Service on 22nd September 2020.
Ahmed Haleem, the Managing Director of Ref Cool, handed over the items to Farhad Fikry, Assistant Commissioner of Police as a gesture to honour the frontline officers of Maldives Police Services for the continuous work they have been doing to ensure the safety of Maldivian citizens during the 2020 global pandemic. In a post published by the official Twitter account of the Maldives Police Service, they thanked Ref Cool for the consideration extended towards their officers during times of Covid-19.
The company stays dedicated to providing you the best products for all your cooling and refrigeration needs while ensuring affordable prices. Ref Cool currently carries three brands of hand sanitizers (500 ml bottles of May Care and Blue Safety and 300ml bottles of Gotdya) and disposable 3-ply face masks which are available for purchase in both wholesale and retail prices.
Since being founded in 2002, Ref Cool has grown to become a well-established brand name in the local market, especially in the field of refrigeration and air-conditioning. Ref Cool got recognised in the Maldives as the sole authorised distributor of Gree, the number 01 air-conditioner in the world. Starting as a relatively small outlet selling air-conditioning units and related services, the company now serves a broad customer base in a variety of economic sectors including tourist resorts, boat operators, real estate developers and construction companies. Their corporate umbrella company: Ref Cool Investment Pvt. Ltd. was incorporated on 5th February 2008 to bring their different business interests under one group.