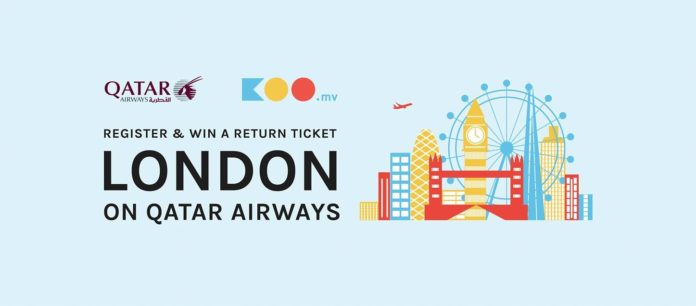 Leading Maldivian marketplace Koo.mv has announced that they are to award one lucky individual a chance to fly to London, United Kingdom compliments of Qatar Airways.
Koo.mv is the first of its kind, a fully-fledged online marketplace of the Maldives launched with the intention of bringing a revolution of E-commerce in the Maldives.
Under the promotion, individuals need to register themselves on Koo.mv by simply going to the Register tab, filling in the details including a valid mobile number and verifying the account. Eligible users are requested to register on Koo.mv by 15th January 2019.
Koo.mv gives Maldivian access to our wide range of products starting from cosmetics, home goods, electronics, Men's, Women's, baby & kids, furniture, sports, automotive and so on.
Qatar Airways is one of the youngest global airlines serving six continents and more than 150 destinations with the latest-generation aircraft and an unrivalled level of service from Hamad International Airport in Doha and the State of Qatar. Qatar Airways has 21 weekly flights from Doha to the Maldives and is the first airline to fly the state-of-the-art Airbus A350 aircraft to the Maldives.
With Koo.mv, customers are able to shop 24/7, over any device and get it delivered within the greater male' region in a span of 24 hours.
For more information, customers are requested to reach out to hello@koo.mv or call +9609556668.