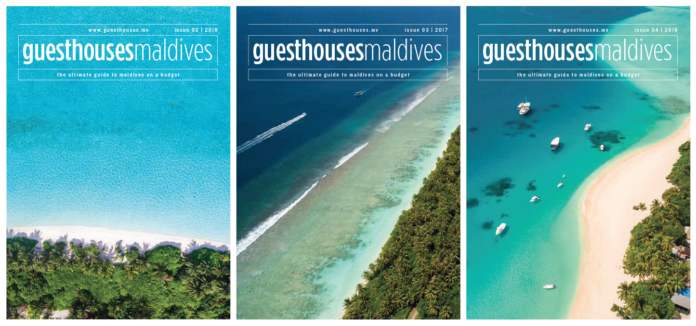 Leading PR firm, Maldives Getaways is proud to announce that registration is now open for the 5th edition of Guesthouses Maldives Magazine.
First published in 2015, Guesthouses Maldives is an exciting concept catering to the emerging new industry and the only magazine in the country focusing entirely on guesthouse tourism in the Maldives. The magazine is published annually, with the aim to be a beautiful, informative and comprehensive guide to all guesthouses in the Maldives.
The magazine was initially published in 3 languages: English, Russian and Chinese. A total of 10,000 copies will be printed and freely distributed to all interested parties across the Maldives, including all the resorts and guesthouses. Further, we will be taking part in most of the major tourism fairs abroad to promote the magazine.
While the main focus of the magazine will be the titular guesthouses listing and the facilities available there highlighted by stunning photographs, it will also include a bit of light reading material such as the history of the Maldives, its culture and other useful information. Additionally, have included articles showcasing the developments in the industry.