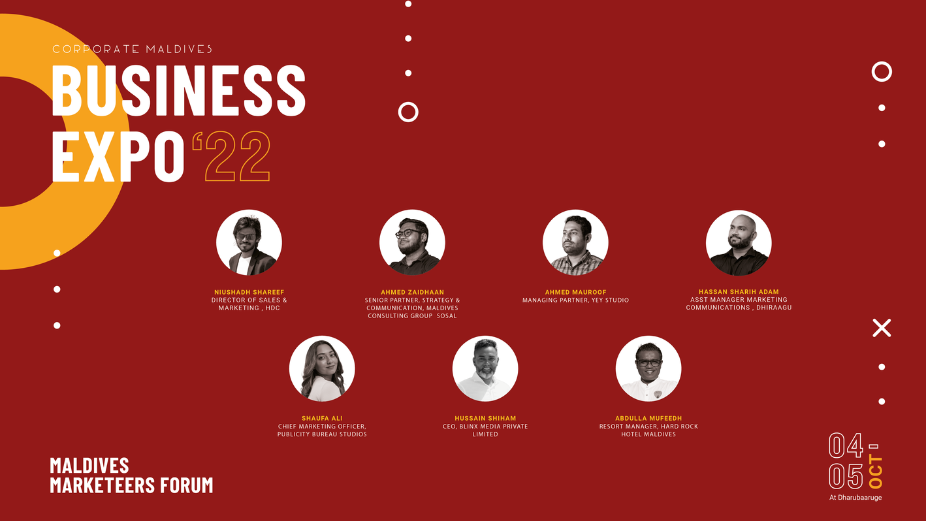 Maldives Marketeers Forum will be bringing together a community of well-known successful marketeers in the Maldives at the Corporate Maldives Business Expo on 4th October 2022 at Dharubaaruge.
This year's Maldives Marketeers Forum will focus on the role of content creation in making a successful business. This forum will be carried out with a keynote speaker, along with individual speakers and a panel.
Maldives Marketers Forum is a unique and innovative event designed to engage, challenge and inspire business leaders and marketers in the Maldives. The forum will focus on three key aspects of Marketing; Strategy, Technology and Psychology.
Maldives Marketeers Forum will commence with a speech by the keynote speaker, Niushad Shareef, Director of Sales & Marketing at Housing Development Corporation. This forum will consist of 4 individual speakers focusing on different aspects of marketing. The individual speakers for the forum are Ahmed Zaidhaan, Senior Partner, Strategy & Communication of Maldives Consulting Group, Shaufa Ali, Chief Marketing Officer of Publicity Bureau, Hussain Sharih Adam, Assistant Manager Marketing Communications of Dhiraagu, and Hussain Shiham, CEO of Blinx media Private Limited.
The panel will consist of the speakers along with Abdulla Mufeedh, Resort Manager of Hard Rock Hotel Maldives and Ahmed Mauroof, Managing Partner of Yey Studio.
Corporate Maldives Business Expo will be attended by the entire business community. Over 50 businesses from different sectors are expected to exhibit and create new business opportunities.
You can now register on https://network.corporatemaldives.com/ as a visitor to attend Maldives Business Expo 2022.