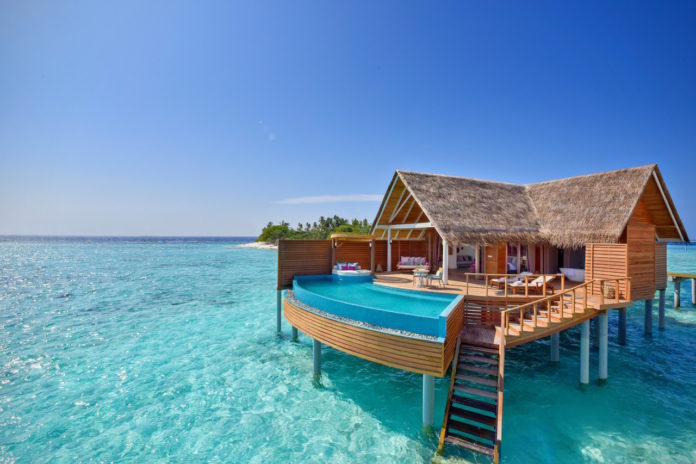 The tourism industry is one of the fastest if not the fastest growing and developing sector in the Maldivian economy. Solely based on the service and hospitality of the Maldivians combined with the scenic beauty, the country is dubbed by many paradise on earth. To spend a holiday in the Maldives is viewed by many as an accomplishment and a dream come true.
Evolution of the industry and the progress lies within the roots, that being the developments in the holiday islands, private islands or resorts that cater to the guests. The implementation of the Visit Maldives 2016 was aimed at getting 1.5 million guests into the country. It was this goal in mind that the industry was encouraged to open as much resorts as possible. 9 new resorts are expected to open in 2016. with just over two months left, more are prepared to launch in the coming days. They are not just resorts but a new addition that is going to make the country's tourism portfolio stand out. The resorts that are to be opened are a class in its own and will definitely be jaw dropping and would give competitors a run for their money. Here are the resorts planned to be opened in the coming few months:
Soneva Jani
Touching down at INIA, and taking a 40 minute seaplane ride, would lead you to Noonu Atoll, the 2 mile lagoon known as Medhufaru is the home of the new addition to the Soneva franchise; Soneva Jani.  Inspired by a word that means 'wisdom' in Sanskrit, Soneva Jani encompasses a collection of Water Villas and Isla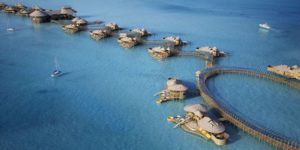 nd Sanctuaries set within a lagoon of crystal clear lagoons, amazing beaches and beautiful tropical greenery. It is just one hour away from its sister island Soneva Fushi and  is a five star resort with excellent   facilities including a beach restaurant, clubhouse, spa, cinema, water sports and dive school. Each villa comes
with a Mr/Mrs Friday personal butler and full access to all the island's facilities. It has already opened with  a soft launching however the official launching is to be held with a function in November of this year.
Milaidhoo Island
Situated in the heart of the UNESCO biosphere reserve, Milaidhoo Island is perfect for nature lovers. With a massive coral reef surrounding the island is one of the best spots to take a dive in or go snorkeling. Milaidhoo Island is, as expected, an absolutely amazing natural setting that will flawlessly complete a luxury resort. The boutique resort is going to be a 5-star accommodation spread across 13 acres, and it will enjoy a contemporary design without compromising the traditional Maldivian culture. Furthermore,  will include 50 villas. Each villa will be the very definition of luxury being dec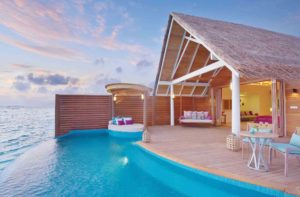 orated with natural, local materials. Of course, the cherry on top will be the amazing views of the beach and the ocean. Milaidhoo Island invites guests to relax in 20 elegant beach pool villas and 30 amazing over-water pool villas. Away from the hustle and bustle from the busy city life, the experience of Milaidhoo is designed and custom made around the needs of couples and honeymooners. This will be a whole new experience for any guest to dwell into the traditional and cultural island relation that the Maldives has to offer. The resort is due to open on the month of November.
Hurawalhi Maldives
With an end of the year opening on 1st of December, Hurawalhi Maldives in Lhaviyani Atoll would feature the world largest underwater restaurant. managed and developed by Champa Casa Holdings. The resort would only have over water villas (90 in total) and have over the water and underwater dining experiences for the guests. With a selection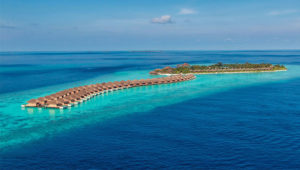 n of premium wine and exquisite dining options and top of the class relaxation, Hurawalhi's luxury and comfort is destined to be a high end resort fit for a king. The underwater restaurant is 13 meters below the surface and a guest can easily wine and dine with beautiful views of the surrounding corals and plethora of  multi colored species of fish, will truly be a magical and once in a life time experience for any guest who goes under.
Resorts have sprung to life throughout the whole year. Each on its own, is a work of art and a hub of entertainment, relaxation and pleasure. the following are the resorts that have already opened its doors to guest and are operating full time.
Furaveri Island Resort and Spa
Furaveri Island Resort and Spa is set on the 23 hectare island of Furaveri, surrounded with beautiful lush vegetation, soft white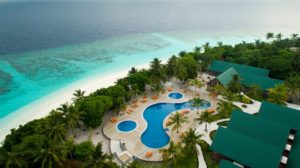 sandy beaches and crystal clear waters and a mesmerizing turquoise lagoon and a vibrant coral reef.
Each of the luxury villas in five categories has a private terrace with mesmerizing views of the Ocean. Four innovative restaurants and bars would offer cuisines to suit taste buds and drinks combined with leisure activities. the resort opened its doors to guest on the 25th of January this year and has been operating successfully since then.
Finolhu
Ever wanted to experience the luxuries and chic beauty of the previous era? Situated in Baa Atoll Finolhu opened up for guests on June 17th and is  is a tad more lively than its glam older sibling with its divine private residences and upm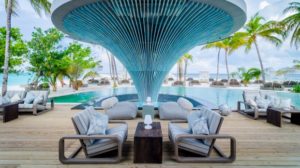 arket offerings. But it's a luxury property nonetheless. There's a weekly "Retro Pool Party", a monthly "Full Moon Tribal sandbar party" and a calendar of events promising one-off extravaganzas featuring appearances from the world's coolest performers and hottest DJs. It is accesible in the UNESCO declared bioshpere reserve by seaplane in just 30 minutes from Malé International Airport or take a 15 minute flight to Dharavandhoo Domestic Airport in Baa Atoll followed by a short 20 minute speedboat ride to Finolhu.
OZEN by Atmosphere at Maadhoo
Opening its doors on 15th July 2016, OZEN at Maadhoo will be the Flagship Luxury resort within the Atmosphere Hotels & Resorts portfolio, the up & coming Indian Ocean hospitality brand.Just 35 minutes awa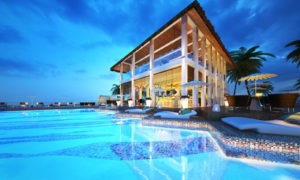 y by speedboat from the Male` International Airport, the contemporary design style & overall ambience of OZEN at Maadhoo, compliments the naturally blessed surroundin
gs of the romantic Maadhoo Island.  OZEN by Atmosphere at Maadhoo features 41 Beach-front villas, idyllically positioned on a soft & pristine sandy beach, overlooking the horizon. Additionally, 49 over-water villas, built on creatively designed stilts, offers a romantic & mesmeric experience.
Malahini kuda Bandos
Well-placed in the sports, beaches, romance area of near capital city Malé, Malahini Kuda Bandos Resort provides a most conducive spot for you to take a break from your busy days. Guests can enjoy easy access to all that the lively city has to offer. With its convenient location, the hotel offers easy access to the cit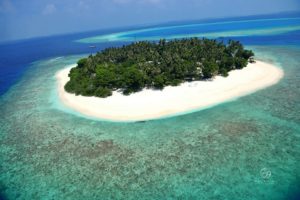 y's must-see destinations. Malahini Kuda Bandos Resort also offers many facilities to enrich your
stay in the Maldives. The casual environment created by both travelers and crew feel a sense of belonging. With a vibrant crew ready to go the extra mile to make Malahini the ideal place for good vibes, they are always on the lookout for quirky and creative ideas that make them everyone's happy place.
Outrigger Konotta
Resting within the crystal waters of Gaafu Dhaalu Atoll, Outrigger Konotta Maldives Resort offers complete privacy and intimate luxury. Here in this sanctuary of exquisite over-water bungalows, innovative Maldivian cuisine, rejuvenating Navasan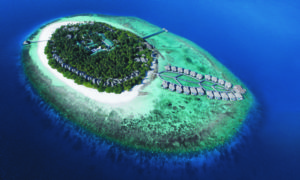 a Spa, reef adventure and stunning sea life, you're showered with uncompromising Outrigger hospitality. 21 Beach Pool Villas, 8 two-bedroom Beach Pool Villas, 21 Ocean Pool Villas, 2 Lagoon Pool Villas and the Grand Konotta Villa make our Maldives resort a one-of-a-kind destination for seclusion, romance, family holidays, and complete relaxation.
The tourism sector is also being hit with waves of changes. The industry is breaking away from classic retreat resort style norms and is evolving to meet the demands and the trends of an ever evolving customer base with the addition of new activities, beautiful structures and amazing packages that no one thought was possible from a decade ago.