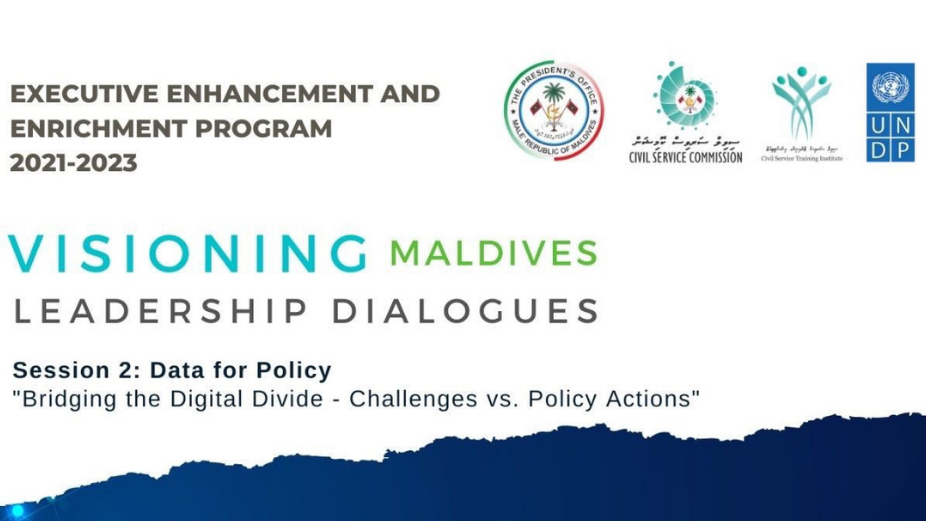 The President's Office of the Maldives and the Civil Service Training Institute, together with the United Nations Development Programme (UNDP) in the Maldives will host the second session of 'Visioning Maldives: Leadership Dialogues' as part of the Executives Enhancement and Enrichment Program (EEEP) 2021-2023.
'Visioning Maldives: Leadership Dialogues' aims to expose leaders to the latest trends in public administration, development policy and innovation. Each session of this program will bring together global experts and top political officials to solicit exchange and knowledge sharing on 21st century leadershipto inspire and support the Government of Maldives in leapfrogging into a 'future proof' development nation.
The second session of the 'Visioning Maldives' dialogues will be held virtually on June 1, 2022. The theme for this high-level policy dialogue is 'Data-for-Policy: Harnessing the potential of data for evidence-based policymaking'. The dialogue will explore the growing role of data in shaping, design and delivery of public policies, zooming in on the evolving institutional and functional capabilities of the public sector required for strengthening agile, adaptive, and real-time policymaking.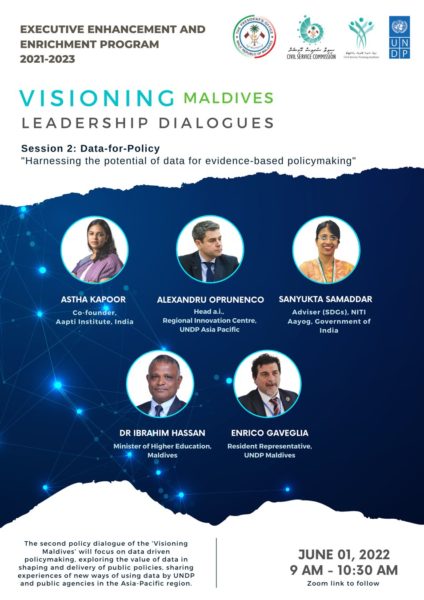 Dr. Ibrahim Hassan, Minister of Higher Education will deliver the opening remarks of the session. Moderated by Enrico Gaveglia, UNDP Resident Representative in the Maldives, the speakers for the session include Alex Oprunenco, Head a.i of the Regional Innovation Centre UNDP Asia Pacific; Sanyukta Samaddar, Adviser on the Sustainable Development Goals (SDGs) from NITI Aayog of the Government of India; and Astha Kapoor, co-founder of the Aapti Institute. The expert panelists will weigh in on how data has become both an asset and a risk in the post-pandemic world and, share experiences on how governments are managing effective decision-making using data and highlight new ways of seeing and doing data governance.
The first session of the 'Visioning Maldives: Leadership Dialogues' was held on 23 March 2022 on 'Leading through Uncertainty: Strategic Foresight.' The session saw the participation of over 300 top government officials.