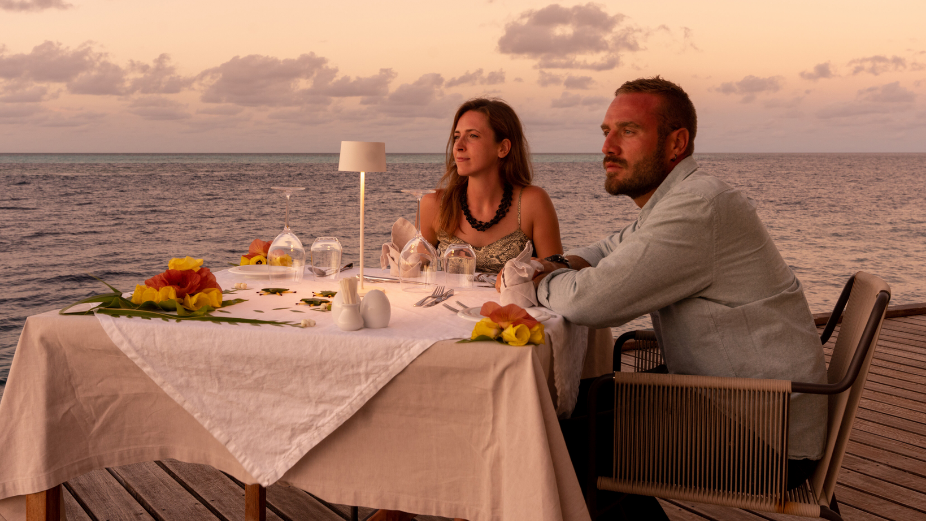 Close your eyes and take a moment to imagine the perfect Maldivian vacation you've always dreamed of. Imagine the sea breeze, the salty air gently brushing against your skin, while gentle waves lap the island like the rhythm of a heartbeat. Under a starry sky, you're about to set sail for a culinary journey, a delicious experience for all five senses…
The scene you're imagining is none other than the Over Water Restaurant at NAKAI Dhiggiri, a stunning resort in the heart of the Maldives. Located at the tip of the Over Water Villa's jetty, this seafront restaurant at Dhiggiri truly hits the spot with a gorgeous setting above the azure Indian Ocean, and a delectable dining menu.
Dhiggiri's Over Water restaurant offers unbeatable views as you enjoy spectacular contemporary cuisine. Indulge your taste buds and sample authentic Italian and Maldivian cuisines prepared by the Resort's expert Chefs, who will take you on a gastronomic journey to Italy and back.
While breakfast is served here to Over Water guests, the restaurant is perfect as a lounge area in the afternoon. As the sun goes down and the evening settles in, here you can enjoy the beautiful colors of twilight unfolding before your eyes – one of the most wonderful and mesmerizing sights of nature that Maldives can offer.
Located on a private island in the dreamy oasis of Vaavu Atoll, NAKAI Dhiggiri Resort is the perfect definition of romantic living. Designed as an adults-only resort, Dhiggiri is a paradise for couples and honeymooners, offering guests the perfect balance of serenity, intimacy and barefoot bliss on white sandy beaches.
For more information and to book your stay, visit https://dhiggiri.nakairesorts.com/