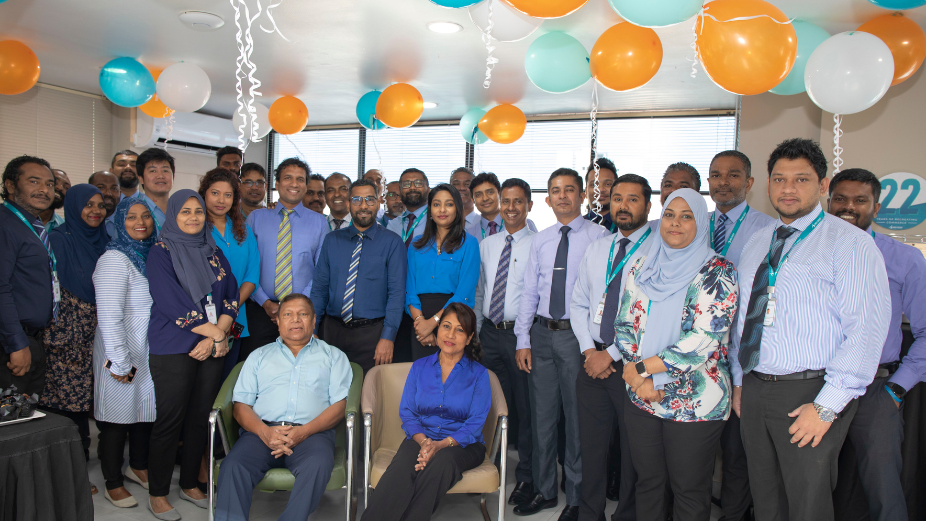 SIMDI Group celebrates its 22nd anniversary today.
Founded in January 2001 by Chairman Mr. Ibrahim Mohamed Didi and CEO Dr. Mariyam Shakeela, SIMDI Group is backed by a history of knowledge, experiences, and expertise dating back to 1972. Since then, it has diversified immensely with an enviable reputation and as a reliable and trusted provider of world-renowned products and services in a wide range of categories.
Their product categories include beverages, fast-moving consumer goods, office automation, resort ware, machinery, and appliances spread to over 15,000 products and services and representing 200 brands, including holding exclusive distributorship of world-renowned brands, such as Illy Coffee, Canon products, Dilmah tea, Monin syrups, Electrolux Home appliances, and more. Furthermore, over the years, SIMDI has extended its service portfolio into Education, Medical, Mental Health, Wellness, Agriculture, Lifestyle, Interior Design, Hospitality, and Leisure. In addition, it has spread its products and services to all 20 atolls of Maldives.
Managing Director Mr. Mishal Ibrahim Mohamed Didi, General Manager Mr. Yooshau Saeed, and other members of the Executive Team lead SIMDI Group today, drawing strength from Chairman and CEO's extensive knowledge, visionary outlook, and exceptional leadership qualities to ensure that SIMDI stays ahead of its competition.
Currently, SIMDI Group employs over 380 full-time staff; from different nationalities, with 4 Strategic Business Units (SBU): SIMDI Bev, SIMDI CPD, SIMDI Resu, and SIMDI Tech.
Mishal Ibrahim Mohamed Didi, Managing Director of SIMDI Group said "We are proud to celebrate 22 years of success and growth. Over the past two decades, we have established strong relationships with world-renowned brands and have helped bring their products to market in new and exciting ways. In addition, our commitment to providing high-quality products and services has remained strong. This dedication has allowed us to maintain our position as a leading player in the industry."
"As we move forward, we are confident that SIMDI Group will continue to grow and evolve, adapting to the changing needs of our customers and the world around us. Our focus remains on providing the highest quality products and services with the best customer service. In addition, we want to create a positive impact in the communities."
"We would like to take this opportunity to extend our heartfelt gratitude to our customers and partners, who have been instrumental in our success. Also, without our employees' support, hard work, and commitment, we wouldn't be where we are today. Our employees are the most important aspect of our company. They have made all the difference, and we have only achieved success during the past two decades because of them. Thank you to all the past and present employees of SIMDI Group "
"As we move into the new year, we are excited to announce that we have many new ventures to introduce with many events planned. For example, we recently launched world-renowned Illy Crema, Godox lights, and Ikafyh coffee drinks by boncafe. The year 2023 looks bright, and we can't wait to share our products and services with our valuable customers in the year ahead."
"Once again, we would like to express our appreciation to everyone who has been and continue to be a part of SIMDI Group over the past 22 years. Here's to many more years of success and growth!"
To celebrate SIMDI Groups' 22nd anniversary, the company is having a meet & greet with their key customers and partners at SIMDI's head office. In addition, for their valuable staff, a special event will be held.