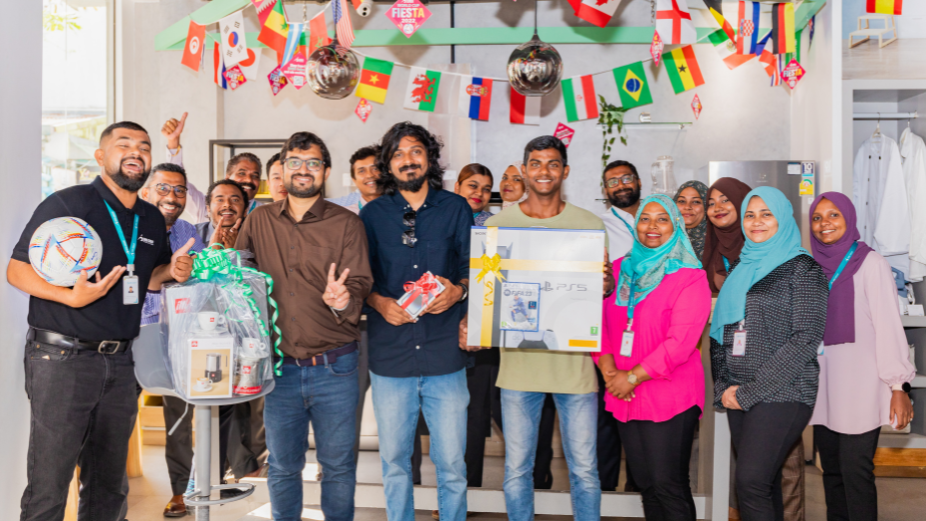 SIMDI Group held the prize award ceremony for the Grand Lucky Draw winners of "SIMDI WORLD CUP FIESTA 2022" promotion today at SIMDI Resu Show Room.
The prizes were awarded to the winners by SIMDI Group General Manager Mr. Yooshau Saeed, SIMDI Senior Manager HR & Development Ms. Aminath Shaffau and SIMDI Resu Senior Manager Mr. Ali Muruthala.
This exciting promotion, held in celebration of "World Cup 2022," gave the chance for SIMDI customers to purchase products through the SIMDI Online App and be entitled to win grand prizes and weekly prizes.
The winners of the Grand Lucky Draw: 1st Prize: iPhone 14 Pro / Samsung Galaxy S22 Ultra: Mr. Aiman Ahmed Shaheem (The 1st prize winner chose to go for iPhone 14 Pro)
2nd Prize: PS5 + Fifa 23: Mr. Hussain Riza
3rd Prize: Illy Coffee Bundle (X9 Chrome Coffee machine, Milk Frother, Capsules, Illy Cups): Mr. Sheeraz
SIMDI Online app is available on Google Play Store and Apple's App Store. The App consists of SIMDI Group's entire portfolio of 200+ Brands and 15,000+ Products & Services. The SIMDI Online App is very user-friendly. Customers get the option of making online payments, cash payments and also choose a convenient time for delivery.
SIMDI Online App Link: http://onelink.to/simdionline