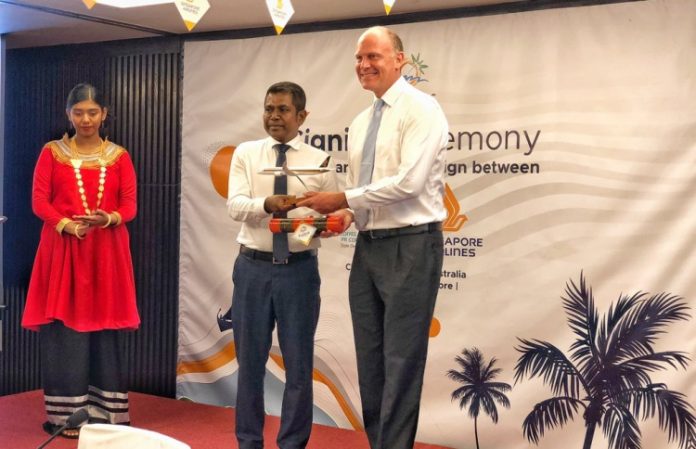 Maldives Marketing & Public Relations Corporation (MMPRC) together with Singapore Airlines kick starts the "Free Independent Traveler & Honeymoon Promotion" for the South Korean Market under the Joint Marketing Campaign between MMPRC & Singapore Airlines.
This activity is designed to promote the Maldives as an attractive destination among the South Koreans. The promotion offers special fares to the Maldives for those travelling via Singapore Airlines with exclusive discounts of 5% offered to KrisFlyer members of the airline. The first 350 customers participating in this promotion will be able to receive a department store voucher of USD 40. To participate in this promotion, customers have to purchase round trip tickets to the Maldives via the Singapore Airlines' website, mobile application, travel agency or from the Visit Maldives official website.
The airline is also offering customers who transit in Changi International Airport a voucher of USD 20. This voucher can be used in the shopping stores or the ambassador lounge in the transfer terminal.
This special promotion will start on the 30th of November 2019 and conclude on the 30th of June in 2020. Singapore Airlines currently operates direct flights between Incheon of South Korea to Singapore four times a day and a total of 28 times a week with flights to the Maldives operating 16 times a week.
Several marketing activities are currently ongoing in 6 different markets which are China, Australia, USA, Japan, South Korea & Singapore under this joint marketing campaign MMPRC aims to promote Maldives Tourism in South Korea and increase arrivals to the country. South Korea is currently ranked 12th in terms of arrivals to the Maldives with a total of 22,188 tourist arrivals from the country to the Maldives till August of 2019.