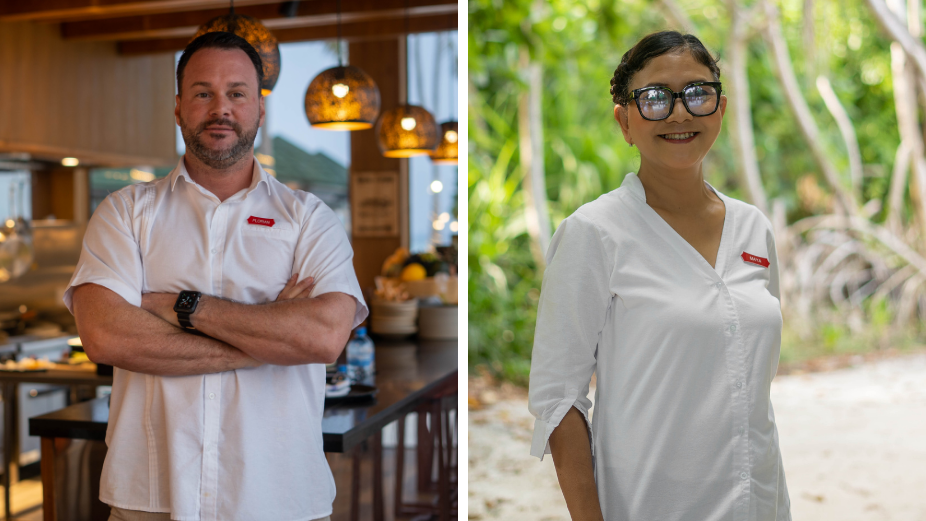 Siyam World, Maldives has announced key leadership appointments with Florian Niessing as Director of Food & Beverage (on the left) and Maya Damayanti as Veyo Spa Manager (on the right) to the team and to its world of possibilities.
Originally from Germany, Florian has had extensive professional expertise within the industry worldwide, holding incredible positions such as Hotel Manager at Staycity Hotel in Heidelberg, Cluster Director of Food and Beverage at Crown and Champa Resorts Maldives that includes Kuredu Maldives, and Bar and Beverage Manager at Le Meridien, Xiamen in China.
Creative and innovative with a passion for the food and beverage industry, Florian has worked around the globe, boasting career highlights such as running his own hotel/ restaurant/ bar in Phuket, Thailand, and winning numerous awards for his cocktail creations. With his love for marketing, Florian is also involved in innovating food and beverage experiences and implementing new ideas that go in line with Siyam Worlds' unique personality, that will undoubtably make an impact at the resort.
He joined Siyam World in late February to oversee, manage and develop all food and beverage related operations on site of over 14 restaurants and bars, including exclusive new beachfront Chef's Table dining venue THE CUBE, all new restaurant concepts, and underground Wine Cellar Barrique.
When asked about his vision for Siyam World, Florian quoted "I am very excited to be a part of the Siyam World family, we have such a genuine team and a lot of amazing ideas. Our goal is to offer the most exciting and extensive choices of F&B experiences in the market including genuine heartfelt service by a proud and passionate team."
Maya, originally from Indonesia, lives and breathes a life as a healthy practitioner, values the importance of balancing body, mind, and soul and focuses on a self-love/self-healing aspect in life. She joins Siyam World as Veyo Spa Manager and brings with her a wealth of international experience within the spa and wellness field and as a wellness practitioner.
Maya has worked extensively with global luxury hotel and resort groups for more than 15 years in Bali, Malaysia, Maldives, Srilanka, India, and Middle East. She offers solid customer service skills and a wide knowledge of developing spa brand standards, including motivating and training staff. With her result-focused, innovative approach, and eye for detail, Maya will lead the Veyo Spa team, oversee all spa operations, and be responsible for developments of spa marketing initiatives, treatment offerings and promotional activities to eventually expand spa revenues.
A career highlight to point out for Maya, is her achievement of being awarded Best Spa Manager 2016 within the Bali Region by the Indonesian Tourism Government affiliated with (IndSpa) the Indonesian Spa Professional Association and, Indonesia Wellness Master Association (IWMA) and Wellness & Healthcare Entrepreneur Association (WHEA).