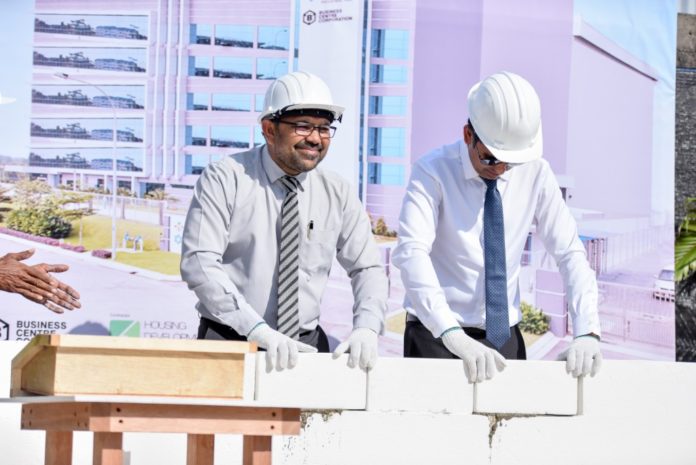 Symbolic foundation stones for Small and Medium Enterprises (SME) Industrial Park was laid by Minister of Economic Development, Mr Mohamed Saeed and Tourism Minister, Mr Moosa Zameer on the 11th of October 2017.
The project undertaken jointly by Business Service Corporation (BCC) and Housing Development Corporation (HDFC) aims to help develop SME's in the Maldives. The six-storey building in Hulhumale' can house 120 SME businesses and this 30.8 Million Rufiya project is commissioned by the government.
Speaking on the occasion Minister Saeed stated that this will open up new opportunities for small businesses to grow. According to him the development of this industrial park was hugely stressed by the president. He added that the president asked to develop 5 sustainable products. And that there will be 5 kinds of factories producing souvenirs in this industrial park. He also said that they did a feasibility study and since Maldives s 99% ocean, in order to make sustainable products related to tourism, they decided on soft toys based on marine life.
Minister Saeed also highlighted that the park will consist of an area where Information Technology (IT) products can be produced by interested youth.
Addressing the event Minister said that when USD 3 billion worth investments are being made in the greater Male' area, this SME Industrial Park is going to open new prospects for the Maldivians. He also highlighted that this is a part of the efforts to develop SME businesses.
Managing Director of BCC Mr Ahmed Mumtaz also spoke, saying that there have always been talks about small businesses but that public has not been educated about business development. He stated that since the opening of Enterprise Development (ED), ample work has been done to develop and improve SME businesses.
Under the efforts to progress SME growth, SME loan, Get Set Scheme and Islamic Finance Schemes have been introduced. The construction of this industrial park is expected to be completed by June 2018.