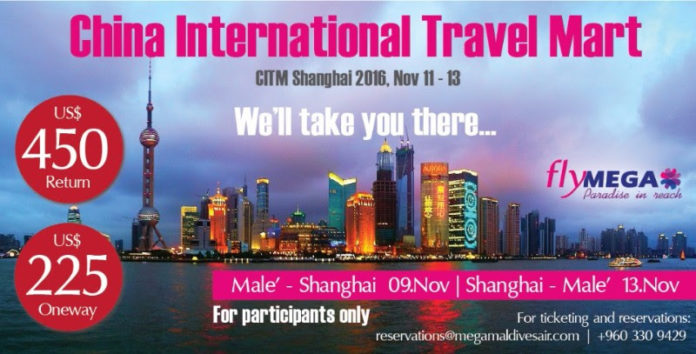 Mega Maldives has announced a special Flight to CITM Shanghai Expo 2016 in November.
The China International Travel Mart (CITM) is being held in Shanghai from 11-13 November 2016, the largest professional travel market in Asia. This annual event is the largest travel trade show in Asia which takes place in Shanghai and Kunming alternatively. This exhibition hosted over 400 international booths and over 3000 domestic booths during the previous exhibition which took place in Kunming, China.
During this three day event, two days are allocated for professional business-to-business meetings where registered exhibitors can arrange meetings with the major operators and media that can guarantee quality and valuable participation at the fair. This exhibition is a great platform for the travel trade sector to meet and network with professionals for future collaborations and promotion of the destination.
Speaking to Corporate Maldives, Javed Faizal from Mega Maldives said that "We're offering a very special fare for interested participants in the Maldives travel and tourism sector to fly from Male' to Shanghai. Travel to CITM for only USD 450 (return) or USD 225 (oneway) on our direct, non-stop service."
For more information,
tel: +960 3309 429
email: reservations@megamaldivesair.com