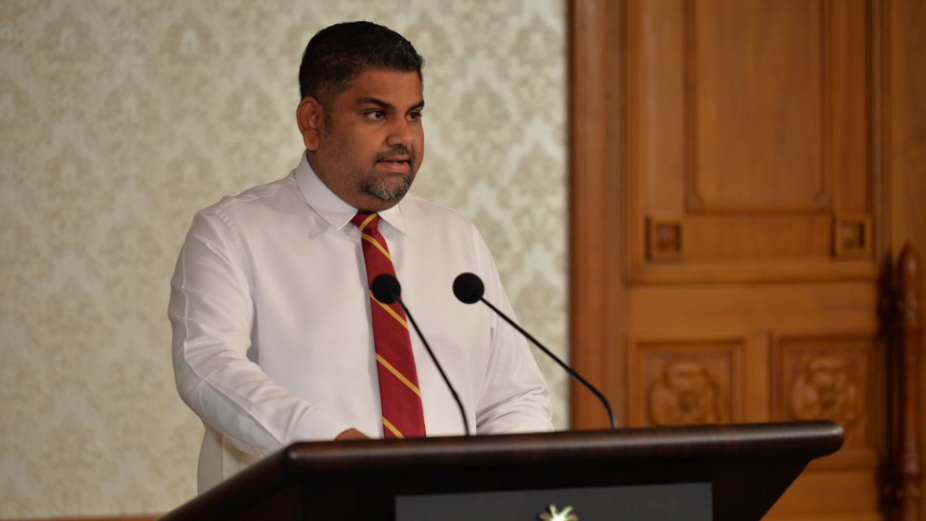 The Spokesperson at the President's Office, Mohamed Mabrook Azeez, has yesterday afternoon updated the media on the latest progress of government activities. Speaking to members of the media during the press conference held at the President's Office, Mabrook shared details of Public Sector Investment Program (PSIP) projects, upcoming urban development projects and the Covid-19 vaccination drive.
Providing updates on the government's PSIP projects, Mabrook stated that Malé Water and Sewerage Company (MWSC) currently has 27 water and sewerage development projects ongoing in different islands across the nation. He also revealed that FENAKA Corporation had completed work on 19 projects, including powerhouse relocation projects and construction of new buildings, with similar projects underway in 10 more islands. Additionally, Maldives Transport and Construction Company (MTCC), had completed the design and build of the harbour upgrade at Laamu Isdhoo Island, and four other major urban development projects had been initiated over the past two weeks in Laamu Fonadhoo, Baa Thulhaadhoo, Gaafu Alifu Dhaandhoo and Haa Alifu Ihavandhoo.
The Spokesperson also announced that a Line of Credit (LOC) would be signed tomorrow for sports development in the Maldives. Under this LOC, sports infrastructure such as youth centres would be constructed in different areas of the nation. In addition to this, the LOC would also fund upgrades to Galholhu Stadium and the establishment of a new National Table Tennis Centre, National Volleyball Court and National Basketball Centre. Mabrook also noted that synthetic running tracks would be constructed in Gaafu Dhaalu Thinadhoo Island, Kulhudhuffushi City, Addu City and Fuvahmulah City under this LOC, and that a project to construct an Indoor Sports Complex at Kulhudhuffushi City would also be similarly included.
Moving onto healthcare, Mabrook stated that a team of specialists would arrive in the Maldives next week to conduct a detailed project review on the cancer hospital under development in Laamu Gan Island. Regarding vaccination, he revealed that there were roughly 30,000 persons remaining who had not received any doses of the Covid-19 vaccine, from the eligible population above 18 years of age. Mabrook emphasised that the bulk of this number comprises Maldivians outside of the country at the moment, who had been unable to return to receive the vaccine yet, and bedridden persons who are unable to receive the vaccine due to their current medical conditions. Thus far, 85 per cent of the eligible population over the age of 18 years had received the first vaccine dose, and 84 per cent of the eligible population above the age of 12 years had received the first dose of the vaccine.

Mabrook also answered questions from journalists and clarified various public interest issues during yesterday's press conference.