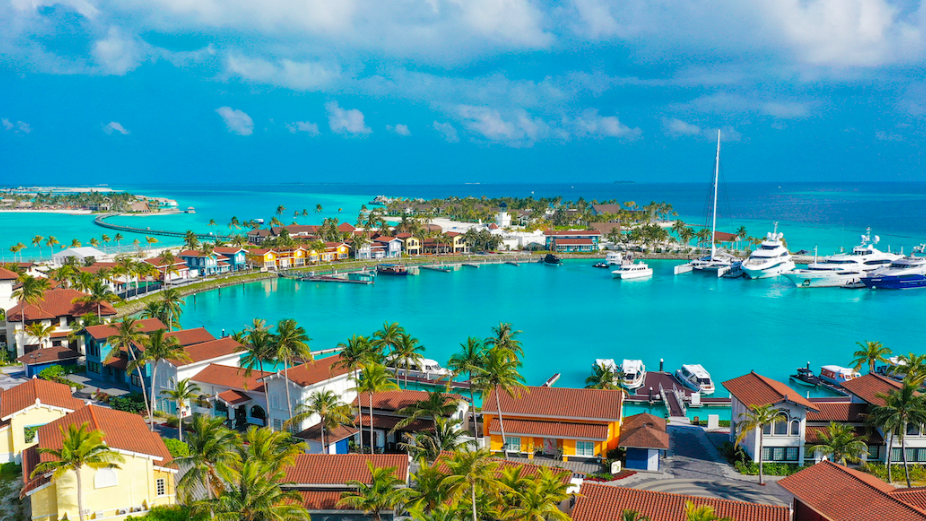 Since it first opened three years ago, CROSSROADS Maldives has been an innovative game changer in the tourism industry of the Maldives. As the country's first multi-island leisure destination, CROSSROADS has redefined the Maldives experience by re-imagining the offerings this island nation can offer to visitors from across the globe.
Nestled amid the breathtakingly exotic Kaafu Atoll and Emboodhoo Lagoon, CROSSROADS Maldives opened its doors to guests in September 2019. It features two lifestyle resorts, Hard Rock Hotel Maldives and SAii Lagoon Maldives – Curio Collection by Hilton®, both of which have direct access to extensive facilities at The Marina @ CROSSROADS, an 800-metre lifestyle area and beach walk featuring retail, entertainment and dining outlets.
Facilities include a 30-berth quay with world-class⁠ amenities and exclusive concierge services⁠, the Junior Beach Club and Camp, the CROSSROADS Event Hall, Maldives Discovery Centre and Marine Discovery Centre – the project's environmental and educational hub. While the shopping avenue boasts a unique and intriguing collection of exclusive brands, the sensational dining at the CROSSROADS Maldives is like no other. You can find multiple food kiosks, and renowned restaurants offering cuisines ranging from Japanese, Thai, Maldivian, Indian, Srilankan and more.
CROSSROADS Maldives, along with its two stunning resorts, has received a number of accolades for service excellence in luxury hospitality from some of the most reputable and renowned organisations from all over the world. What's more, SO/ Maldives by S Hotels and Resorts Public Company Limited, the flagship hospitality arm of Thailand's Singha Estate PCL, is set to take centre stage in 2023 as the third resort at CROSSROADS.
Crafted from tales of the past and designed to inspire the present, CROSSROADS Maldives is the next chapter in the story of one of the world's most incredible destinations. The archipelago's only "one-stop, non-stop" lifestyle destination invites adventurous travellers from the four corners of the globe to cross paths and explore a treasure trove of iconic oceanfront resorts, upscale lifestyle outlets and endless entertainment offerings, as well as the stunning natural, cultural and nautical attractions that have lured maritime travellers to the Maldives for centuries. CROSSROADS Maldives is where cultures meet.