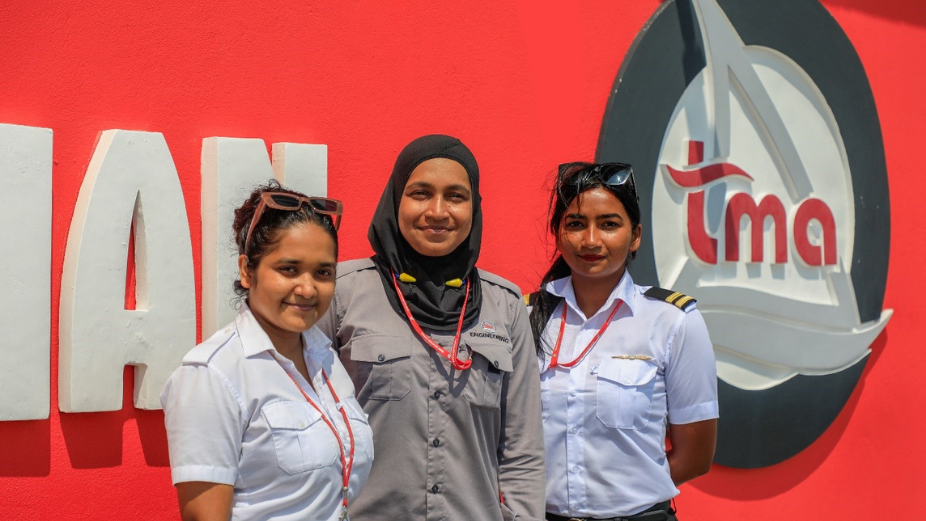 March 8 is observed globally as International Women's Day, an annual occasion to mark the cultural, political and socio-economic achievements of women worldwide. It also happens to be the anniversary of the world's first female pilot license, which underpins the celebration of Women of Aviation Worldwide Week every year.
While aviation is generally a male-dominated field, over the years, we have been witnessing more and more women climbing the ranks and carving their own paths. Trans Maldivian Airways (TMA), the world's largest seaplane operator, aims to attract increased diversity in the workforce and help develop the next generation of Maldivian women in aviation.
When considering a career at TMA, the sky is truly the limit. Whether it's down on the ground as part of the day-to-day operations, as a mechanic or technician that maintains the aircraft, a flight dispatcher who ensures that a flight reaches its destination safely, or to fly high as a pilot, Trans Maldivian actively fosters progress towards equal opportunities across the board.
We sat down with a few women from Trans Maldivian Airways to learn more about their journeys, and to find out what it's like to work in the aviation industry in the Maldives.
MARIYAM JASRA AHMED, FLIGHT DISPATCHER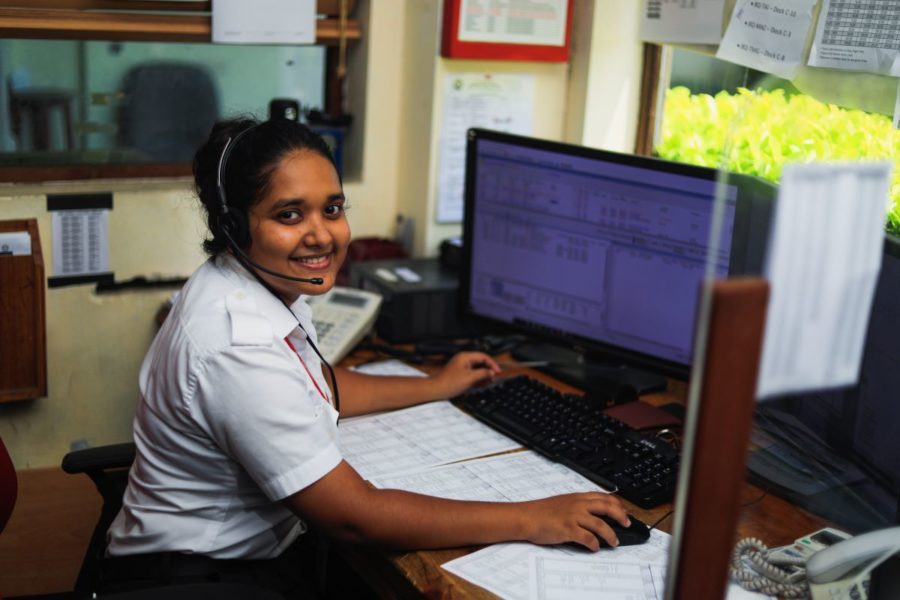 Jasra began her first ever job in 2017, when she joined TMA as a Guest Relations Officer as part of the ground operations team. She is currently working in the dispatch department at TMA, a role she has been undertaking for the last two years.
"I love everything about dispatch," says Jasra. "It gets pretty busy, and I think that's what I love most about it. The busy days are the most rewarding."
When asked about her experience at TMA so far, she reveals that there are many opportunities available to help advance her career. "I feel like if I work hard, I can go anywhere," she says. "Just like how I initially started out in ground operations and moved to dispatch. Even in the dispatch department, I can go further if I want to. It's definitely a symbol of growth for me."
Jasra adds that despite working in a male-dominated field, she has received nothing but encouragement in her work. "When you first join, you might think it will be hard. But there's no differentiation; everyone is very supportive. So, if you're looking to join this field, if you have the passion for it, don't hesitate. Just go for it."
FATHIMATH LEENA, B1 TECHNICIAN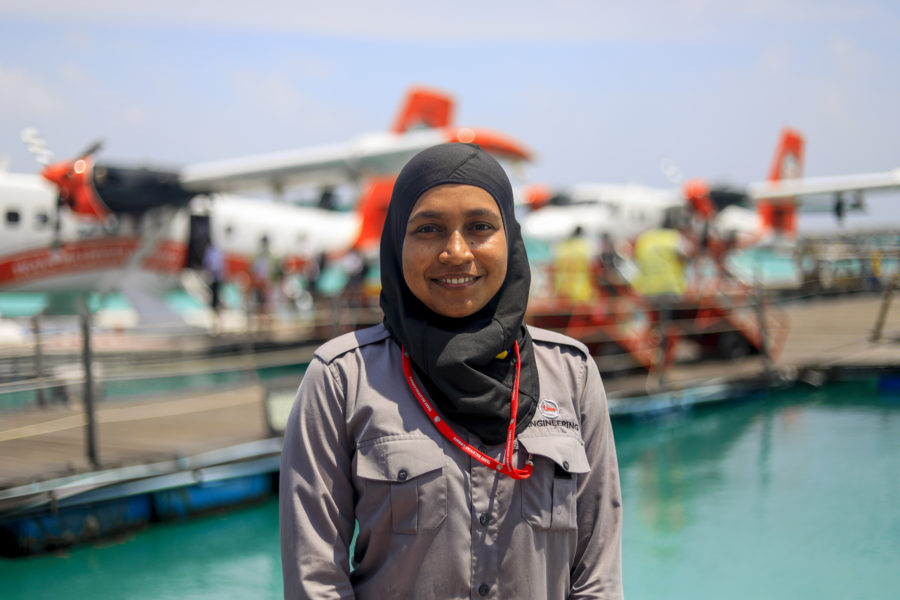 Before Leena was introduced to the aviation industry, she worked at the Food and Drug Authority – a completely different experience to her current position. After pursuing her higher studies, she then joined the engineering department at TMA, about four years ago.
"At first it was a bit challenging, because I had to get used to the work," says Leena. "But I soon realized that I like being active. I like that I don't have to sit at a desk from 9 to 5. I used to do that too, but now I know that I enjoy this much more."
Leena says she overcame the initial learning curve with the support of her superiors. "The senior technicians and engineers, they teach you all the tips and tricks to make your work easier. They train you a lot too. Even yesterday, we were doing some rigging and learning more about engineering. It's really cool that I get all of these opportunities."
When asked if she had any advice for young women looking to join the field, Leena says hard work and confidence are key. "Once your body gets used to the physical aspect of this kind of role, and once you build up your confidence, work doesn't feel like work anymore. It's so much fun. You can do it; just don't give up."
MARYAM YANIA IBRAHIM, FIRST OFFICER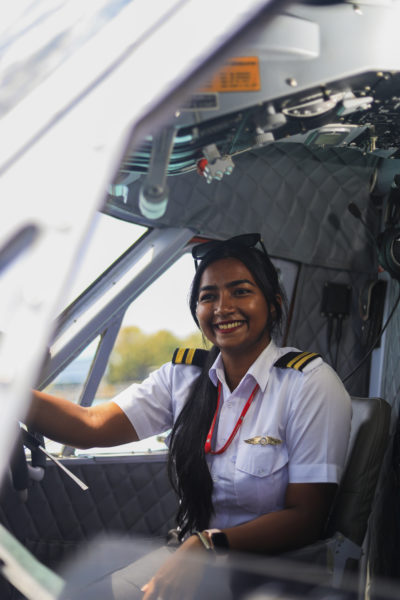 Yania is a first officer at TMA, a role she has been fulfilling for about a year. This marks her first job in the aviation industry after completing flight school and obtaining her pilot license.
Even though being a pilot is physically demanding, Yania's love for the job keeps her motivated and energized. "I really enjoy what I do, so that compensates for everything else," says Yania. "I don't even realize how quickly the days go by anymore. Time flies when you're flying."
According to Yania, TMA helps cultivate a nurturing working environment by conducting trainings, especially with new staff. "The seniors are very supportive of what you do," she says. "They place a lot of faith in you, and that makes you want to push yourself even further."
Yania's advice is to keep chasing your dreams, regardless of what anyone else thinks. "Drown out the noise. If you truly want to pursue something, don't listen what people say. Follow your goals and make it happen."