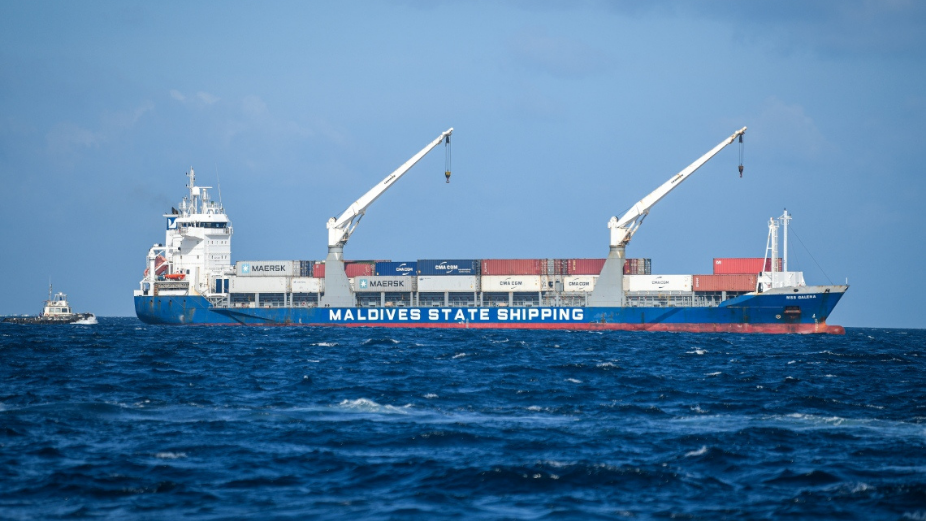 The Maldives as a nation has a proud history of possessing the largest shipping fleet in the region. Maldives State Shipping (MSS), a new shipping and logistics company launched in 2020, aims to reclaim the title once again.
Backed by a professional and experienced team along with multiple vessels, MSS offers an extensive international liner shipping service with a mission to simplify trade and transform the Maldivian economy to benefit both businesses and its citizens.
In the early days of its operations, MSS had chartered the IBERIAN EXPRESS, a container carrier sailing under the flag of Gibraltar. With a cargo capacity of 1118 containers, this vessel was utilized by MSS between March 2020 and July 2021.
MSS has been utilizing the BONTHI II since November 2020. Currently, the company utilizes this vessel for the first cargo ferry link between Addu, Huvadhoo and Tuticorin, India. With a deadweight of 4,106 tonnes, this general cargo ship is owned and operated by State Trading Organization (STO), the parent company of MSS. The BONTHI II boasts an overall length of 86.30 metres, a moulded breadth of 14.50 metres and moulded depth of 8.80 metres. However, MSS has revealed that the BONTHI II will be offloaded soon.
The company's newest acquisition, the MV MSS GALENA is the first vessel purchased by MSS. It made its maiden call at Maldives Ports Limited in late November 2021. With a cargo capacity of 680 containers, this vessel is poised to enhance direct shipping services between Maldives and Sri Lanka. Recently, MSS announced that the company is in the process of acquiring a new bulk carrier vessel for operations. With a deadweight of 43,000 metric tonnes, this will be the largest such vessel acquired by a Maldivian company. According to MSS, the main purpose of acquiring this bulk carrier for its fleet is to import construction materials at an affordable rate.