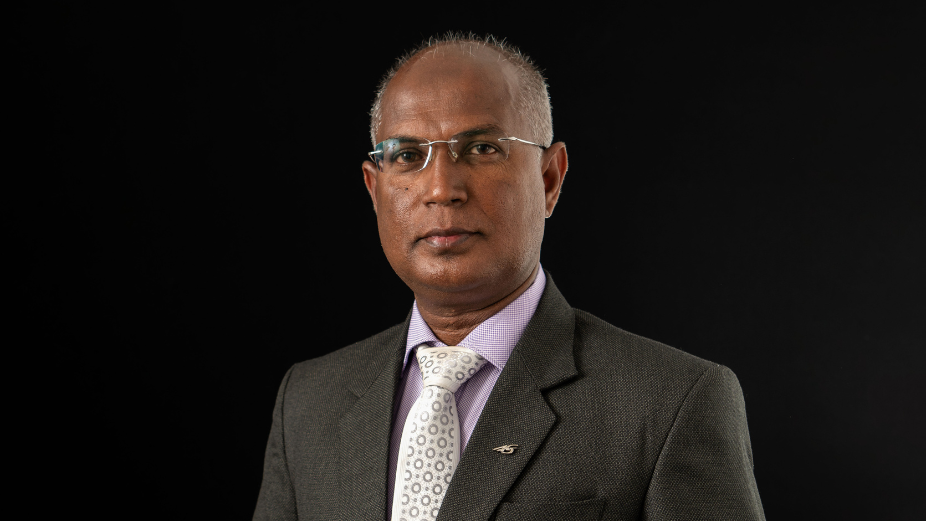 Mr. Ismail Shareef is the General Manager of Al Shaali Marine Maldives, a leading boat manufacturer in the Maldives.
Mr. Shareef initially joined Al Shaali Marine Maldives as the Service Delivery Manager in 2011. He was then appointed as the Operations Manager, before being appointed as the current General Manager of the company. During his time at Al Shaali, Mr. Shareef has played an instrumental role as the driving force behind the company's success.
Our team sat down with Mr. Shareef to gain greater insight into his career, and the company's milestones over the years.
Could you tell us a bit about your career thus far?
After completing school, I first joined MWSC, and then took part in an engineering apprenticeship program at MIFCO. Then, I got the chance to join the 'Island Explorer' boat, which was a cruise liner operated by Universal between Male', Raa and Baa Atolls. That marked my first venture into the tourism industry. I spent about two and a half years on the boat, until it ceased operations.
I was then sent to Laguna as the Launch Section Manager. Then, I got the opportunity to join Meeru as the Guest Transport Manager. I spent about 8 years there. I also worked for a year at Sultans of the Sea as the Operations Manager. After that, I joined Al Shaali Marine Maldives.
For me, Al Shaali Marine Maldives posed an entirely new challenge. I had mainly been engaged with marine vessel operating, but now, I was suddenly on the production and manufacturing side of it. In between, I had also done various trainings and courses related to the field.
What sets Al Shaali Marine Maldives apart from its competitors?
When I first joined Al Shaali, not many people knew or heard about it. Al Shaali Marine Maldives is a joint venture between Al Shaali Marine Dubai and Coastline Investments Pvt Ltd, a local company in which Universal owns shares. As such, it is very connected to Universal. In terms of our business, we carry out boat manufacturing and yard work for Universal-owned resorts, as well as many other resorts across the country.
In 2013, we realized that our work style was not helping us increase our market share. There was no corporate strategy or marketing plan in place at the time. And so, we made a plan to boost visibility and create more brand awareness. We carried out market studies on our competitors as well as our customers. Around 2015, after thorough research, we began introducing new boats at various boat shows and marine expos to better cater to customer requirements.
The COVID-19 pandemic caused severe disruptions across various industries. What kind of challenges did Al Shaali Marine Maldives face, and how did you overcome them?
In the early days of the pandemic, we did not think it would last as long as it did. At the time, we prioritized our staff and provided all salaries and benefits without letting go of any of them, so as not to compromise on our customer service.
Our customers are like our partners, or our family members. We always strive to maintain a close relationship with them. We believed that, if there was a sudden change in circumstances and if we did not have our staff, we would have been unable to provide the necessary services to our customers. And so, we considered our staff to be one of our best assets, and treated them as such.
As time went on, borders closed and no travel was allowed. There were around 90 staff that we retained with full pay, but demand had slumped drastically and hardly any work was being done at the yard. We were in a very difficult place financially due to this. Even after borders reopened, it was still not 'business as usual'. The Greater Male' Area was considered high risk for COVID, and resorts were unable to pick up finished boats from our yard due to their health and safety policies.
Recovery was gradual and slow. As more and more restrictions lifted, we saw our business grow, and we were able to lift ourselves out of the financial situation. By God's grace, we have now covered the losses and gone back to pre-pandemic levels.
Could you tell us about some of the most major achievements of Al Shaali Marine Maldives?
In contrast to when I first joined, I believe that Al Shaali is now well-known as one of the leading companies in the boating industry of Maldives. From 2016 onwards, we have achieved several accolades from many boating-related awards. We are also consistently listed as one of the Gold 100 companies of Maldives, which is a highly esteemed achievement.
What's in store for Al Shaali Marine Maldives in the future? What's next?
As I mentioned earlier, we've been introducing new boats to the market since 2015. Right now, both locally and internationally, there is a high demand for catamarans. Catamarans are a type of watercraft with two parallel hulls. To cater to the demand, we are now focused on designing and building 52-foot catamarans, which will hopefully be introduced to the market this year.
For the resort market especially, catamarans will be a highly desired product to transport guests. We are designing the catamaran with an in-board engine, of which the fuel consumption is lower. As a result, vessel operators can enjoy lower fuel costs.
Whether the vessel is used for business or personal leisure, it is important to economize and lower costs. Many people have this mentality where they only look at the boat's operating hours or speed, while in fact, it is equally important to consider the costs. This will benefit you whether you are a company or an individual.