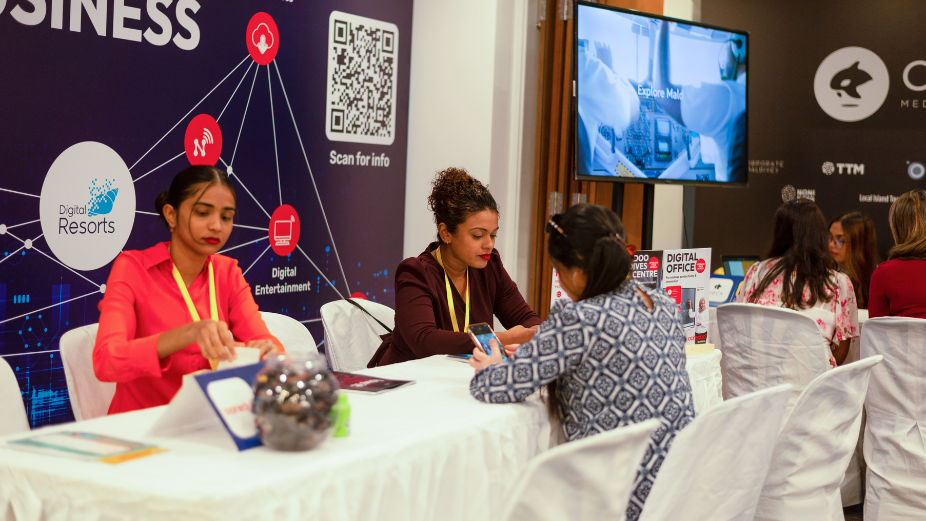 Digital Transformation encompasses the major technologies and trends that are driving enterprises, taking advantage of the digital shift to remain competitive by improving operational efficiency, optimising cost and tapping into new business opportunities.
Ooredoo Maldives Digital Journey allows all its customers to take advantage of new technologies in the market to minimise daily hassles, processes and bureaucratic activities, reducing in-person interaction, and adapt the latest trends in the technological spectrum.
With its local and international expertise, Ooredoo Business is able to provide serverless and smart digital services. For instance, hospitality industry customers can enjoy the provision of Ooredoo's 'Digital Resorts' which allows seamless connectivity to their clients from the first interaction with their guests to the last moments of their journey in the Maldives.
With the introduction of its tier 3 carrier grade Data Centre along with a 24/7 customer service team, Ooredoo business customers are able to go serverless where they can enjoy a cost optimised solution with the latest developments in technology as the company mitigates and resolves issues efficiently to ensure that businesses are well looked after and secure.
Ooredoo Maldives has created solutions designed to enable reliable self-service options, proactive support and all-in-one transitions across all required facilities while allowing for automation of services, room for future expansion and flexible options for customer organisations to allow their staff to work from anywhere.
Moreover, with Ooredoo's Enterprise Solutions, customers are able to experience the fastest hosting services & mobile applications to AI based customer platforms, digital office options, digital guard solutions, audio/video conferencing solutions, fleet and vessel tracking solutions, in-room automation experience, chatbots and more, ensuring that they get the best of the best in technology.
With the transformation of technological advancements, the business community has become exceedingly data driven and dependent on digital services, making the digital infrastructure vital for operations. The endless possibilities of technology empower businesses not only to streamline their operations, but to create value added services and unique experiences for their customers.
Catering to these needs, Ooredoo heavily prioritizes strengthening its network infrastructure to enable incorporation of technologies such as AI, IoT, AR/VR. In addition to the nationwide submarine cable, the Maldives Sri Lanka Cable was deployed in 2020 connecting the shores of Hulhumale' and Colombo increasing the digital capacity of Ooredoo network. The company's investment in PEACE Cable in 2021 is a testament to its continuous commitment to build resiliency, diversity and redundancy on international data capacity to provide uninterrupted services.
With its solutions, Ooredoo Business is able to support its valued customers to enjoy more time to focus on major tasks and make collaborations easier and whole with the corporate adoption of technology.