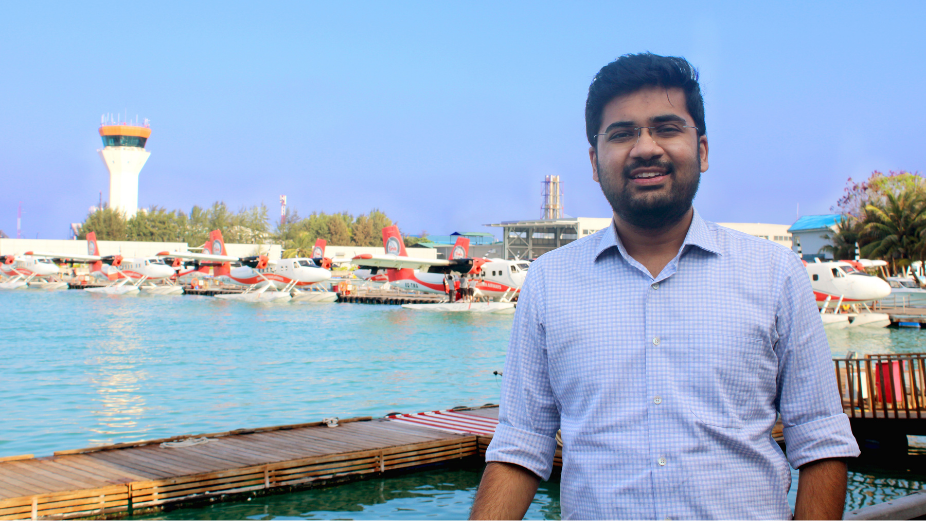 Shubham Moondhara is the Head of Corporate Strategy and Business Development of Trans Maldivian Airways (TMA), the world's largest seaplane operator. Our team sat down to have a chat with Shubham to delve deeper into his career so far, and how TMA has evolved and grown over the years.
Could you tell us a bit about your career at TMA thus far?
I joined Trans Maldivian Airways in 2015, as the Head of Corporate Strategy and Business Development. Presently I'm handling reservations, scheduling, on day backend operations, terminal services, sales and marketing, as well as the corporate strategy verticals.
My journey has been very dynamic. I've seen Maldives grow and evolve in the last seven years. During this period, there are more than 70 resorts that have popped up in the different islands in this nation. So as an organization, we have had to cater to those resorts. In the same duration, we've had two ownership changes, and we continue to evolve even now. It has been an immense learning process, so in those terms, the journey so far has been very dynamic.
What do you think TMA does differently from your competitors? What sets you apart from the crowd?
If you look at how TMA came into existence, it is because of the resorts that have sprung up over the years – it is a chicken and egg situation. In the early days, tourism was heavily concentrated near the airport in the Male' Atoll. This presented an opportunity to take tourism beyond this central region. It began with Lars Erik Nielsen who first started with the concept of seaplanes, and TMA can be credited with taking the tourism beyond the Male' Atoll. If you look at us today, our prime USPs as an organization would be our flexibility and our consistency.
If you look at a typical airline, they would have a particular number of aircrafts and have X number of seats. The objective would be to maximize the revenue, by filling up the seats. The more seats you can fill up at the highest price, the more revenue you make, right? But at TMA, it's exactly the opposite. What we do is we aggregate the demand from all our resort customers, and based on that, we create a schedule every day. If you look at the last 20 years, no single day has had the same schedule. This is because we cater exclusively to our partner resorts, based on their demand. This differentiates us from all our competitors.
The other biggest factor that differentiates us is the passion of our team. We have evolved a lot in the last 25 years, but what has remained constant is our passion to make a difference, our passion to serve the customer in the best possible way.
COVID-19 has caused severe disruptions across the global. What are some of the challenges that you have faced, and how did you overcome them?
I think COVID-19 was very different from anything that anyone has ever experienced, in the sense that, normally when you have situations and problems, you usually do have some books or case studies that you can always refer to or take guidance from. COVID-19, however, was unprecedented. No one knew what the next step would be or should be. No one knew when it was going to go away.
For us as an airline, it was extremely important that we understand where we were headed. Our objective was to be there for Maldives when it reopened. I believe a lot of credit has to be given to the government of Maldives who ensured that the international borders opened when they did. All stakeholders worked in tandem to ensure that guests were given a very safe haven during the pandemic.
At TMA, we really overhauled our operations in terms of providing a very safe and hygienic travel for all our passengers. It was a tough time because the reality was that, on ground, we had zero revenue for many months, even though we had operational costs just as any typical airline. At the same time, we took the initiative to step up our maintenance on our aircrafts. We took that time to maintain our fleet because we were very optimistic that there was going to be light at the end of the tunnel and we wanted to be well prepared. When the tourism eventually started to rebound, and resorts started to ramp up, TMA was there.
What do you consider to be the biggest success of the company so far?
As an organization, the way we measure success is probably slightly different. These days, a lot of people tend to measure success as a quantitative output or as a quantitative achievement. For us, the success is our journey, and how have continuously evolved over the last 25 years.
If you have a particular task, you can succeed at that in a thousand ways. But for us to continuously succeed in that task is because of the processes that are in place. And these processes give us the confidence that we can really deliver to our customers. For us, this whole journey of evolution, where we started with two aircrafts, and have gone up to around 60 aircrafts today – this journey itself is a success of TMA.
How is TMA helping to develop the human resources in the Maldives?
If you look at when we initially started out, the number of pilots and engineers were minimal in the Maldives, so most of our human resource capital was from outside the country. But today, more than 65 percent of our crew consists of locals. In fact, the majority of our engineers, mechanics and technicians are now local.
What we have done, it's called knowledge transfer. We ensured that local talent was grown to a level that it can sustain itself. We take pride in the fact that we run these programs, where we continuously develop the local population. What we believe is that you don't need everything or all the skills in a person when they join – you can help a person evolve if he or she exhibits the ability to learn. Every talent, whether it's a local or expat has that ability. So at TMA, we focus a lot on how we can grow and nurture the local talent. As a matter of fact, the verticals that I head, have predominantly local staff and I am proud to be working with all of them.
What's in store for the future at TMA? What can we expect to see next?
I think the future is very exciting. In the short term, we are looking forward to our move to the new seaplane terminal, which is a state-of-the-art project carried out by the government of Maldives. The new seaplane terminal will not only increase the efficiency of seaplane operations but it will also further elevate the perception of seaplanes as a mode of transfer. With many resorts opting to have private and dedicated lounges for the guests, it will accentuate the overall guest journey. Of course the move to the new space will be very challenging. We have grown so much in the old seaplane terminal for the last 25 years, that it's almost in our DNA to work here. Now, suddenly we'll be moving somewhere else, but I'm sure it's going to be fantastic and we're looking very forward to it.
In the longer term, I think Maldives is on a cusp of big step-up growth. The pandemic really put Maldives on the global map. Now almost every person in the world knows what the Maldives is and aspires to come here. Once these projects like the international terminal, the new seaplane terminal are completed,  Maldives is going to have a step-up growth in terms of tourist arrivals. A lot of new resorts are coming up as well, and again, TMA's role here is to be the infrastructure. To continuously grow and improve our services for these exciting upcoming resorts is what we are planning and preparing for!