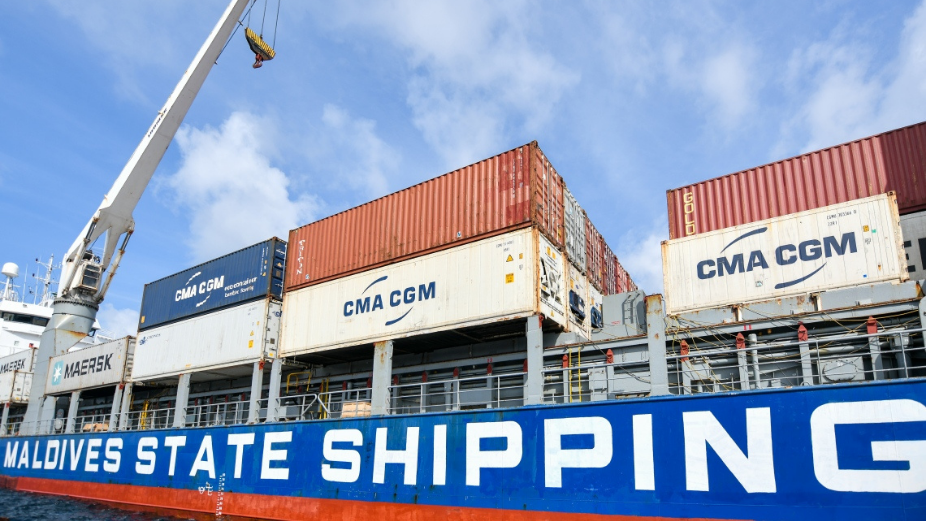 Maldives State Shipping (MSS), a shipping and logistics company offering an extensive international liner shipping service, celebrates two years of service this month.
Established in February 2020, MSS was born to overcome the difficulties faced by Maldivian traders and businesses in the absence of a reliable national shipping line. It also aims to provide employment opportunities for Maldivians in an industry other than our main economic driver, tourism.
MSS is owned by State Trading Organization (STO), one of the most reliable public companies in the nation. STO has been in operation for over 50 years with many thriving subsidiaries, joint ventures and associates under its umbrella.
Soon after MSS commenced its operations, the Maldives went into lockdown to curb the spread of COVID-19. Employees were confined to work from home, and were restricted from travelling. Therefore, arrangements abroad became a challenging task. Despite the challenges, MSS managed to persevere and achieve significant milestones in its now two-year history.
In March 2020, the MV Iberian Express was delivered to MSS by its owners. This vessel set sail on her maiden voyage on 5th April 2020. Additionally, during April 2020, MSS entered into a marketing agreement with Feedertech Pvt Ltd., one of the biggest feeder service providers in Asia, as well as an agency agreement with Simatech Marine Services Lanka to expand its feeder operations.
In August 2020, MSS collaborated with the world's largest shipping line "Maersk", by becoming the sole carrier of Maersk containers to Maldives during this quarter. The following month, MSS became an agent for the Shipping Corporation of India (SCI)'s vessel "MV MCP Linz" which is a direct cargo ferry service between Cochin, India and Northern most port of Maldives, Kulhudhuffushi Port Limited. MV MCP Linz is a combination vessel with a capacity of over 380 TEUs.
Furthermore, MV Bonthi II was acquired by MSS in late November, which has a capacity of 3700 tons. MV Bonthi II operates as a direct cargo ferry between Tuticorin and the Southern ports of Maldives, Addu and Thinadhoo.
In July 2021, MV Iberian Express was off-hired and replaced by MV MCP Linz to carry MSS cargo from Colombo. Shortly after that, MSS signed a feeder agreement with Hapag Lloyd on 16th August 2021.
The month of November 2021 saw a number of achievements for MSS, including the purchase of the company's first own vessel, the MSS Galena. Its maiden voyage was on 23rd November. In addition, the joint venture subsidiary "Maldives Shipping Services Lanka Pvt Ltd" was registered in Sri Lanka. Looking into the future, MSS hopes to become a full-fledged shipping company that not only serves Asia, but the entire globe.