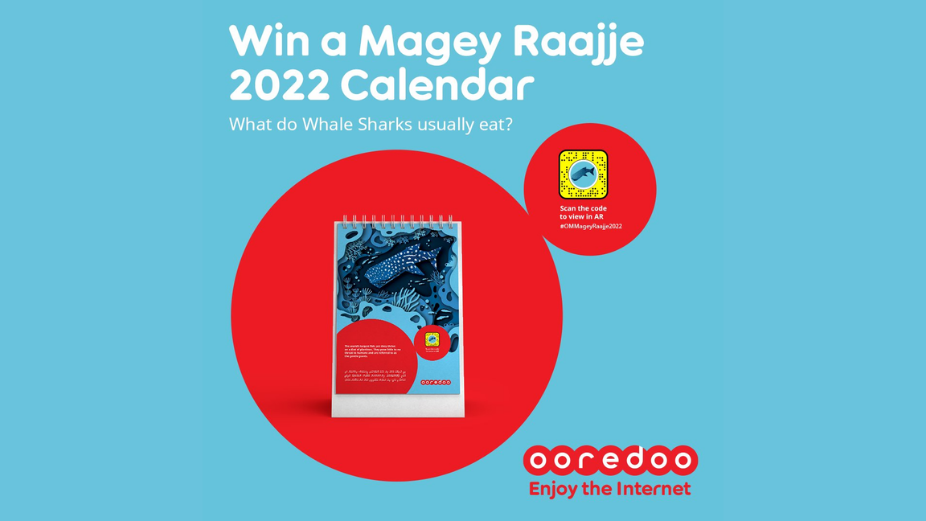 Test your luck, and stand a chance to win a Magey Raajje 2022 calendar by Ooredoo Maldives!
The telecom giant has announced a social media giveaway contest, whereby one lucky winner will receive the coveted desk calendar that features an exciting augmented reality experience.
All you have to do is simply reply to Ooredoo Maldives' tweet with the correct answer to the given question. The giveaway will close on 27th January 2022, at 11:59pm.
In December last year, Ooredoo Maldives launched its new desk calendar for the year 2022, bringing the beautiful fauna of the Maldives to life with augmented reality. This unique Magey Raajje calendar by Ooredoo Maldives was revealed at a special ceremony held at its Head Office with the presence of the Minister of Tourism, Dr. Abdulla Mausoom, and the Managing Director & CEO of Ooredoo Maldives, Mr. Najib Khan.
Each month of the calendar features the fauna that is commonly found in the Maldives along with a short introduction. Users can simply scan the Snapchat code on the page and enjoy an augmented reality experience bringing the featured marine creatures to life. In addition to the AR feature of the calendar, it also comes with an origami paper that can be crafted into the featured animal of the month, making the calendar even more interactive and enjoyable to users of all ages. Step by step instructions video for making the origami for each month is also available on Ooredoo Maldives website. Users can scan the QR code on the origami paper to be directed to the instructions video.