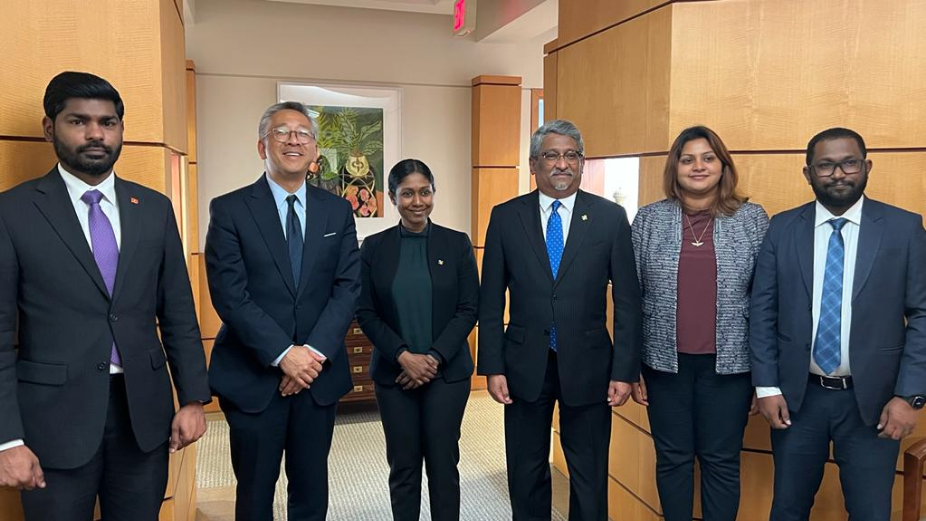 Minister of State for Foreign Affairs, Ahmed Khaleel meets the Assistant Secretary of State for the Bureau of South and Central Asian Affairs of the United States Department of State, Donald Lu, and the Acting Deputy Assistant Administrator for South and Central Asia at USAID, Theodora Dell, during his visit to Washington D. C. yesterday.
State Minister Khaleel and Assistant Secretary of State Lu discussed on enhancing the traditionally close bilateral partnership and global matters of mutual importance. This includes the establishment of a resident US Embassy, as well as expanding cooperation in the fields of education, environment and climate change and economic cooperation. State Minister and Assistant Secretary Lu also discussed global matters of mutual importance.
During the meeting with Acting Deputy Assistant Administrator Theodora Dell, State Minister Khaleel noted the significant role played by USAID to improve resilience of individuals and communities in the Maldives. State Minister Khaleel and Acting Deputy Assistant Administrator Dell also reviewed the ongoing cooperation programmes by USAID in the Maldives.
State Minister Ahmed Khaleel was accompanied by Ambassador of Maldives to the United States of America, Thilmeeza Hussain, Joint Secretary, Shiuneen Rasheed, Minister – Counsellor at the Embassy of Maldives in New York, Hassan Adam and Miuvan Mohamed, Communications Director.