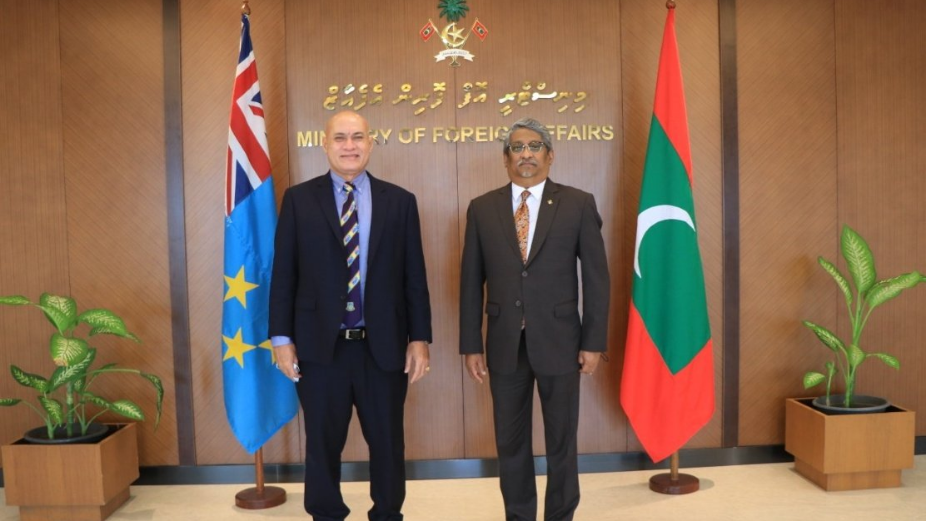 Minister of State for Foreign Affairs, Ahmed Khaleel has met with the Minister of Finance and Climate Change of Tuvalu, Seve Paeniu on Thursday morning.
During the meeting held at the Ministry of Foreign Affairs, State Minister Khaleel and Minister Paeniu discussed ways to strengthen bilateral cooperation between the two countries. Both State Minister Khaleel and Minister Paeniu also reaffirmed their commitment to enhance collaboration at the multilateral fora and within the United Nations, to address global issues of mutual importance such as climate change and land adaptation.
Minister Paeniu was accompanied by Madam Malama Oilau Te'o-Paeniu, Spouse and Ms. Lafita Meatuai Paeniu, Senior Advisor for Pacific Divisions at the Department of Foreign Affairs of Tuvalu.State Minister Khaleel was accompanied by Ms. Shiuneen Rasheed, Joint Secretary and Mr. Mohamed Shaffau Ibrahim, Assistant Director at the Ministry of Foreign Affairs.
Minister Paeniu is on an first official visit to Maldives from 17-22 November 2021, on the invitation of Foreign Minister Abdulla Shahid. During his visit, Minister Paeniu will be making a courtesy call on His Excellency Ibrahim Mohamed Solih, President of the Republic of Maldives and will also meet with respective Cabinet Ministers in the Maldives.