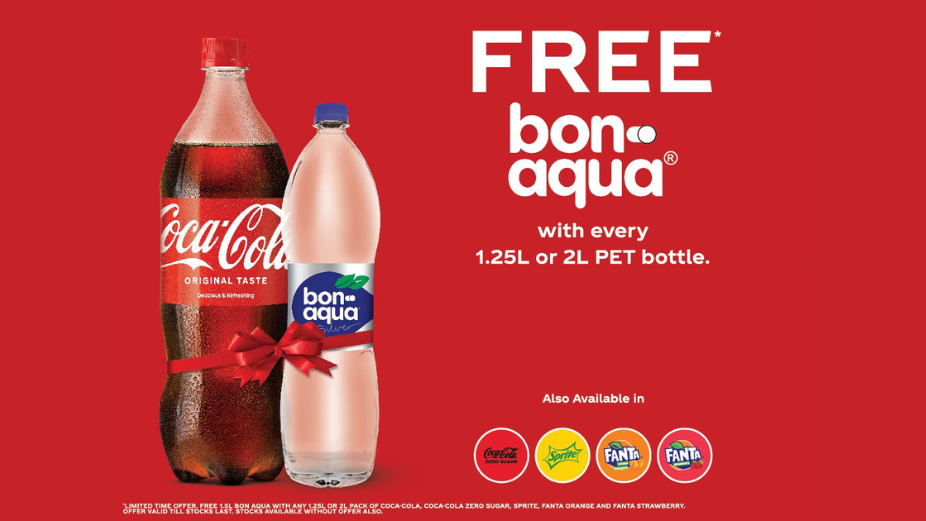 The dry season is here and it's time to stay refreshed and hydrated!
Coca-Cola Maldives has launched a fantastic promo pack for sizes of 1.25L and 2L drinks that will keep you refreshed and hydrated. This promo pack is available across brands including Coca-Cola, Coca-Cola Zero Sugar, Sprite, Fanta Orange and Fanta Strawberry. With every purchase, you get a free 1.5L BonAqua bottle of water.
BonAqua is a high-quality drinking water from the global beverage portfolio of Coca-Cola. It combines the process of multistage filtration with a proprietary blend of minerals to deliver a fresh, clean taste for daily hydration. BonAqua is produced and bottled in the Maldives, allowing you to enjoy the pure and fresh taste of Maldivian water in every sip. With its high-quality standards, you can be confident that you are drinking safe and healthy water.
"At Coca-Cola, we believe in providing our customers with the best quality beverages that not only quench their thirst but also offer them a wide variety of choices to stay refreshed," says Mr. Pankaj Sinha, Managing Director for Coca-Cola in the Maldives. "We are proud to have BonAqua as a part of our product portfolio in the Maldives. We produce and bottle BonAqua in the Maldives, ensuring its quality and purity."
With the rise in temperatures, it's important to keep yourself hydrated and what better way to do it than with your favourite beverage and a free bottle of water. The promo packs are available in all groceries and marts around the Maldives. Don't miss this amazing opportunity to stay refreshed and hydrated this summer.
Coca-Cola is one of the world's most famous and best-loved brands and has been refreshing the world for 135 years. The Coca-Cola Company, through its bottling partner, Male Aerated Water Company Pvt. Ltd., has introduced a range of hydrating and delicious beverages to Maldives. The Coca-Cola brand has also sought to brighten consumers' lives through a variety of engaging projects and activities.