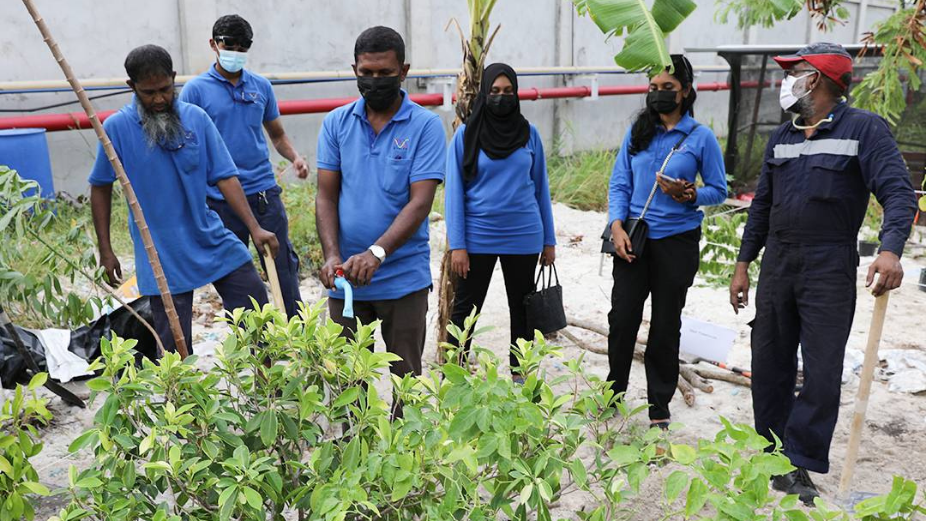 State Electric Company Limited (STELCO) yesterday launched its annual 'Rahfehi' program from the company's 50-megawatt powerhouse in Hulhumale' – a program aimed at planting 6,000 trees. 
This year's 'Rahfehi' program was inaugurated by Chair of Parliament's Environment and Climate Change Committee, Hoarafushi MP Ahmed Saleem, STELCO's Managing Director Hassan Mughnee, and Deputy Managing Director Dr. Ali Azwar. To commence the program, palm trees were planted by the guest of honors.
Speaking at the ceremony, MP Saleem said that it was important that companies like STELCO to take the initiative to conduct such programs, and encouraged the company to continue to plant trees. STELCO's MD Mughnee, further said that they aim to involve all the employees and outlets in planting 6,000 trees under the program.
STELCO launched its 'Rahfehi' program in response to the pledge made by President Solih to initiate a nation-wide tree planting program in Maldives during the first 100 days of his administration.
This marks the fourth consecutive year for STELCO to conduct the program. STELCO has planted over 10,000 trees since it launched its 'Rahfehi' program in 2019.