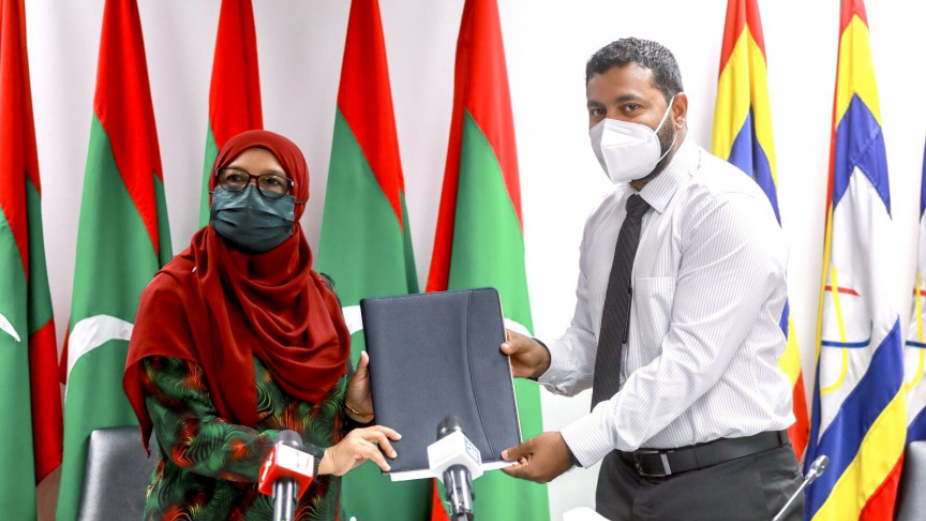 State Electric Company (STELCO) has completed repair work on the Block 5 ward at the Home for People with Special Needs in K. Guraidhoo.
This project was undertaken as a CSR initiative by STELCO.
On Tuesday morning, paperwork on the completion of the project and the handover of the block to Gender Ministry was signed by STELCO's Managing Director Hassan Mughnee and Gender Minister Aishath Mohamed Didi.
The project involved retiling rooms and toilets in Block 5, and reinstalling sinks, as well as work on the kitchen. STELCO also treated the cracks on the walls, conducted pest control, replaced fans, installed window curtains, and painted the entire block. 
At the handover ceremony, Minister Aishath noted that Block 5 had been unused for a long time due to the need for major repairs.
"While there are currently 199 patients at the shelter, this number changes everyday. There are always those who need immediate transfer on the waitlist," the Minister stated. "The handover of the ward means the addition of 28 spots. These 28 spots will change the lives of many, and ease their suffering."
"As a utility provider, we have evolved to become a company that strives to improve the quality of life of our customers," Mughnee said. He added that STELCO will continue to conduct similar CSR projects in the future.