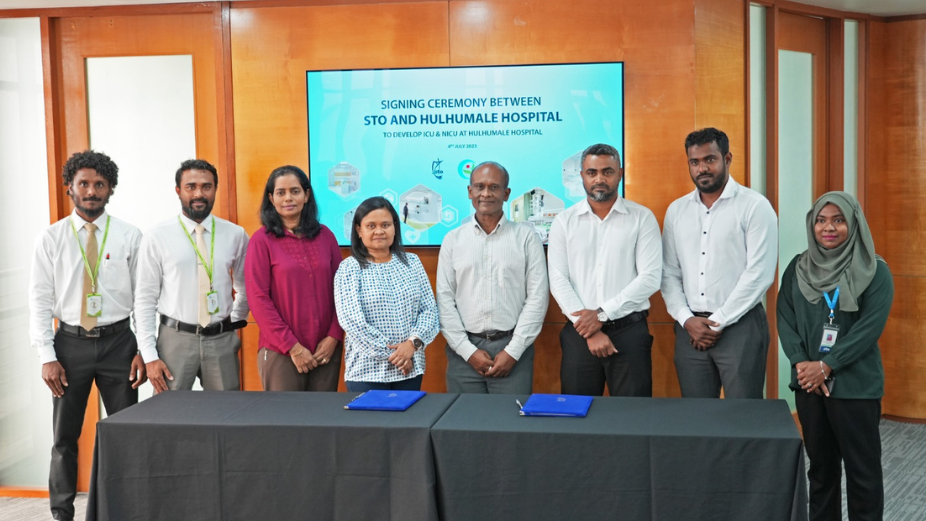 State Trading Organization (STO) has partnered with Hulhumale' Hospital to develop and expand the Intensive Care Unit (ICU) and Neonatal Intensive Care Unit (NICU) facilities, to address the pressing need for additional space and modern medical resources.
This undertaking also aims to provide improved healthcare services to the growing population.
Hulhumale' Hospital, which commenced operations almost two decades ago, has faced numerous challenges due to the surge in patient numbers brought about by the city's second phase. Among the hospital's primary concerns has been the lack of sufficient space to cater to the increasing demand for healthcare services. In light of this, the hospital has recently established specialized centres for mental health services, children's developmental health problems, and an oncology centre, specifically designed to assist cancer patients.
Currently, the hospital possesses only one operating theatre, which has presented significant obstacles in conducting daily operations. The newly established operating theatre project will include five operating theatres, including orthopaedic, ophthalmic, and general surgeries.
The ICU facilities at Hulhumale' Hospital currently comprise a total of 17 beds, which have been strained due to the growing population. However, with the implementation of this project, an additional 24 ICU beds will be established, resulting in an increase of over 100% in capacity.
To oversee the development of the ICU and NICU, STO's CEO and Managing Director, Abdullah Saeed, and Hulhumale' Hospital's CEO, Ms Maria Saeed, recently signed an agreement at a ceremony held at STO's Head Office.
Upon completion, the ICU and NICU at Hulhumale' Hospital will be equipped with state-of-the-art medical facilities and tailored resources, aiming to offer top-notch healthcare services. The successful implementation of a similar project, the Central Sterilization Department at Indira Gandhi Memorial Hospital.
The collaboration between STO and Hulhumale' Hospital marks a significant step forward in meeting the increasing healthcare needs of Hulhumale' residents. The enhanced ICU and NICU facilities are poised to greatly improve the hospital's ability to deliver vital medical care to the growing population, ensuring a brighter and healthier future for Hulhumale' city.