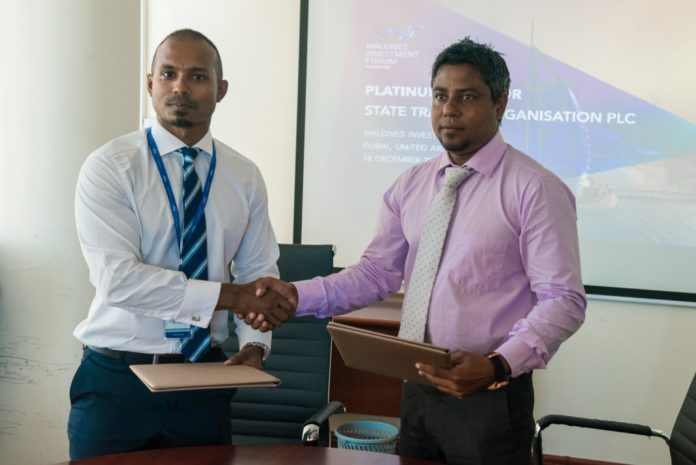 State Trading Organization (STO) has signed as a platinum sponsor for the Maldives Investment Forum (MIF), which is to be held in Dubai on 18th December 2017.
The documents were officially signed by General Manager of Business Development Mr Muslih Maseeh on behalf of STO and Deputy Minister Mr Adam Thaufeeq on behalf of Ministry of Economic Development.
The main purpose of the forum is to provide numerous opportunities for business partnerships in addition to showcasing a number of investment-ready projects available in the Maldives. It is expected that MIF 2017 will include investment sectors such as finance and banking, real estate, tourism, information and communication technology as well as renewable energy.
The 2018 edition of Maldives Investment Forum will be divided into 3 events. First is the introductory session, where ministers from Maldives and Dubai will be participating. The second session will be a for businesses of both countries to introduce themselves and finally a gala dinner for the VIPs and participants.
This year's MIF was launched by Minister of Economic Development Mr Mohamed Saeed in a ceremony held in the National Art Gallery on 11th October. Previously this forum was held successfully 3 times, in Singapore, Beijing and New Deli. Maldives Investment Forum 2017 info kit is readily available for download.