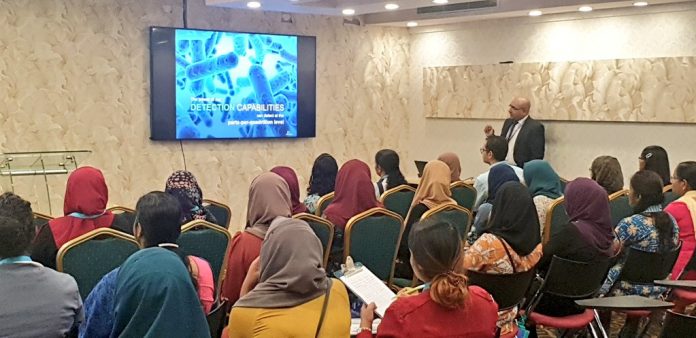 State Trading Organization (STO) in association with Indira Gandhi Memorial Hospital (IGMH) has announced that a Prenatal and Newborn screening workshop will be conducted from 15th-16th January, following the launching of the service at IGMH today.
This service is being introduced to Maldives for the first time. Equipment for prenatal and newborn screening was gifted by STO medicals.
Prenatal screening tests can identify whether a baby is more or less likely to have certain birth defects, many of which are genetic disorders. These tests include blood tests, a specific type of ultrasound and prenatal cell-free DNA screening.
According to Ahmed Faisal, Pediatrician at IGMH, the screening will be done for 7 congenital disorders including hypothyroidism, galactosemia, phenylketonuria, biotinidase deficiency, adrenal hyperplasia, cystic fibrosis and G6PD deficiency.
"STO's initiative in introducing Prenatal and Newborn screening at IGMH is done as part of its efforts to contribute to the development of the health industry in Maldives since this is something that STO gives utmost importance. Previously, IGMH used to send samples abroad to check and screen but with the introduction of the new service, we hope that it will provide an easier process and that this will further develop the services given at health institutions," said Ahmed Shifan, the Senior General Manager of STO Medicals.
Prenatal and newborn screening helps to detect potentially fatal or disabling conditions in newborns as early as possible, often before the infant displays any signs or symptoms of a disease or condition, to aid earlier diagnosis and treatment.