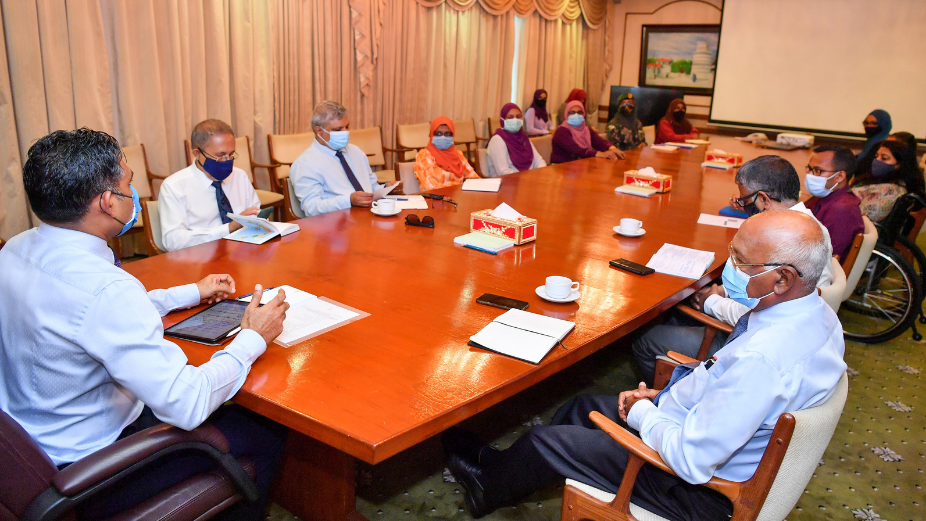 Vice President Faisal Naseem has held discussions with stakeholders from both the health and education sectors regarding ways of strengthening the nursing profession in the Maldives. Discussions centered on overcoming hindrances to training nurses, enhancing Government support to the profession, and addressing the discrepancy between the ratio of individuals who are trained in nursing and those who actively join the field.
The stakeholders highlighted the reason for the aforementioned discrepancy stems from the difference in wages and allowances paid to local, as opposed to foreign, nurses. In addition to this, stakeholders also noted the proliferation in the amount of C-Sections performed in the Maldives, recommending to restore the compulsory 'midwifery' component to nursing training.
Speaking during the meeting, the Vice President stated that President Ibrahim Mohamed Solih considers enhancing healthcare in the Maldives an urgent priority, especially following the Covid-19 pandemic. He also congratulated the newly-elected members of the Maldives Nursing and Midwifery Council (MNMC).
The meeting was joined by the Minister of Health, Ahmed Naseem, the Minister of Higher Education, Dr Ibrahim Hassan, Special Advisor on Social Policy at the President's Office, Dr Mustafa Lutfy, and Undersecretaries at the President's Office, Aishath Nazhath and Dr Abdul Malik. Other stakeholders present the meeting included the Registrar of the MNMC and high-ranking officials from Maldives National University (MNU) and MNMC.