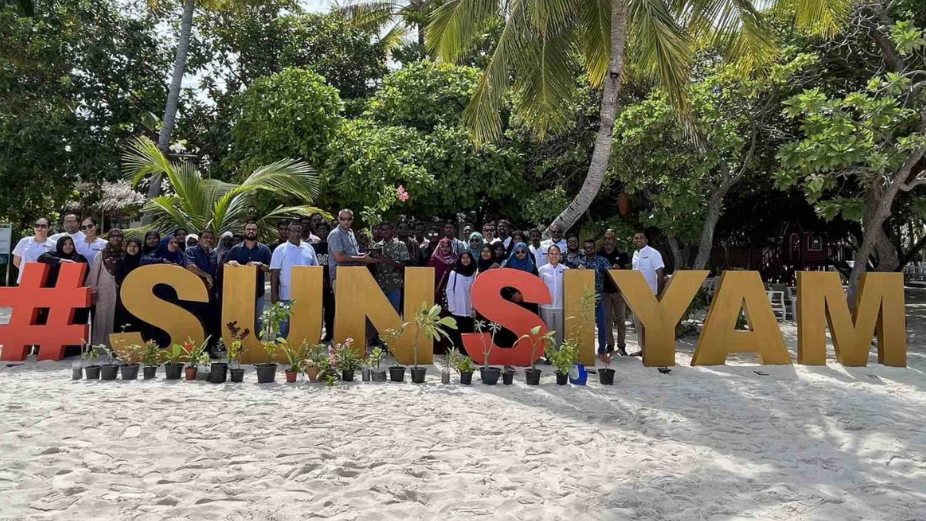 Sun Siyam Iru Fushi Maldives announces its recent participation in World Youth Skills Day by welcoming a group of talented students from neighbouring local island N. Holhudhoo, for an unforgettable day visit on July 15, 2023. This full-day adventure was all about igniting inspiration and fueling passion in these young minds. A curated lineup of activities showcased the endless possibilities in the vibrant world of hospitality. From Housekeeping to Front Office, Culinary to Food and Beverage, Recreation to Water Sports, no stone was left unturned in giving those students a taste of what the industry has to offer.
World Youth Skills Day is celebrated annually on the 15th of July and highlights the importance of equipping young people with essential skills for employment and entrepreneurship. Recognizing the immense potential of the youth in shaping the future of the nation, Sun Siyam Iru Fushi took this opportunity to nurture local talents and showcase the diverse career paths available in the thriving hospitality industry of the country.
"Our goal was to motivate these budding stars, encouraging them to explore exciting career paths in the hospitality industry. We believe that everyone has a unique talent waiting to be discovered, and we were determined to help these students unleash their potential", says Abdulla Atham, Resort Manager at Sun Siyam Iru Fushi.
The day was filled with interactive sessions led by our experienced professionals, who shared their valuable insights and secrets to success. From practical demonstrations to engaging discussions, no stone was left unturned in creating an immersive learning experience that left a lasting impression on those students.
"But it wasn't all work and no play! We made sure to sprinkle some fun into the mix, allowing these aspiring talents to enjoy the stunning surroundings of our beautiful Maldives resort. From mesmerizing beaches to thrilling water sports activities, we wanted to show them that a career in hospitality can also be an incredible adventure", adds Abdulla Atham, Resort Manager at Sun Siyam Iru Fushi.
Sun Siyam Resorts is dedicated to operating sustainably and responsibly in the Maldives and Sri Lanka while offering authentic guest experiences. The Sun Siyam Cares program prioritizes sustainability through initiatives such as reducing energy and water use, managing waste to reduce plastic use, supporting community development, and investing in renewable energy. We also focus on conservation efforts and work to preserve local heritage and cultural practices. By following these sustainability practices, we aim to minimize our environmental impact, carbon footprint and contribute to the socio-economic well-being of the communities in which we operate.
For more information about Sun Siyam Cares and its sustainability initiatives, please visit the website at www.sunsiyam.com/sun-siyam-cares/. To find out more visit www.sunsiyam.com.