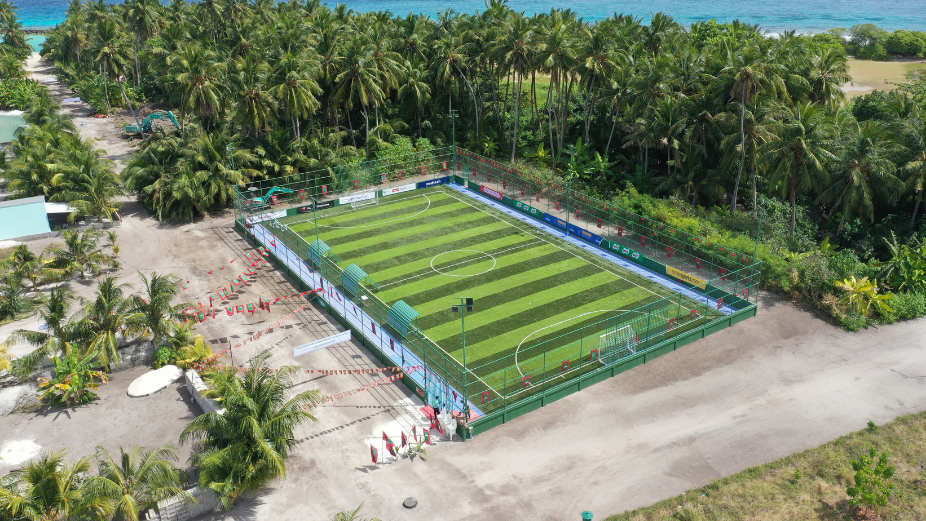 Tekkers Milo Championship Maldives Cup is set to start today at Shaviyani Narudhoo. This is a tournament that will be held all across the Maldives between islands. The first match of the tournament will be played between Shaviyani Atoll Host Island Narudhoo and Foakaidhoo at 16:00.
The tournament was first set to take place on Hdh. Kulhudhuffushi on the 18th. However, due to an increase in covid cases in Hdh atoll, the tournament was forced to be delayed on Hdh atoll. The Hdh section will now start after finishing Block 2, (Shaviyani and Noonu atolls).
And as per the previous schedule, the Shaviyani Atoll section is starting today, 26th January. Shaviyani atoll has been divided into 2 groups. Group A consists of Foakaidhoo, Narudhoo, and Feevah while Group B includes Milandhoo, Funadhoo, and Noomaraa.
There are a lot of preparations ongoing in Shaviyani Narudhoo for the opening of the Tekkers
The winner of both the groups will play against each other in the atoll final. This will decide the Atoll champion. After each atoll's tournament is finished, awards and medals will be given to individual winners and winning teams.
The champions of the Tekkers Milo Championship Maldives Cup will receive a prize money of MVR 50,000/- while the tournament runner-up will get a prize money of MVR 25,000/-.