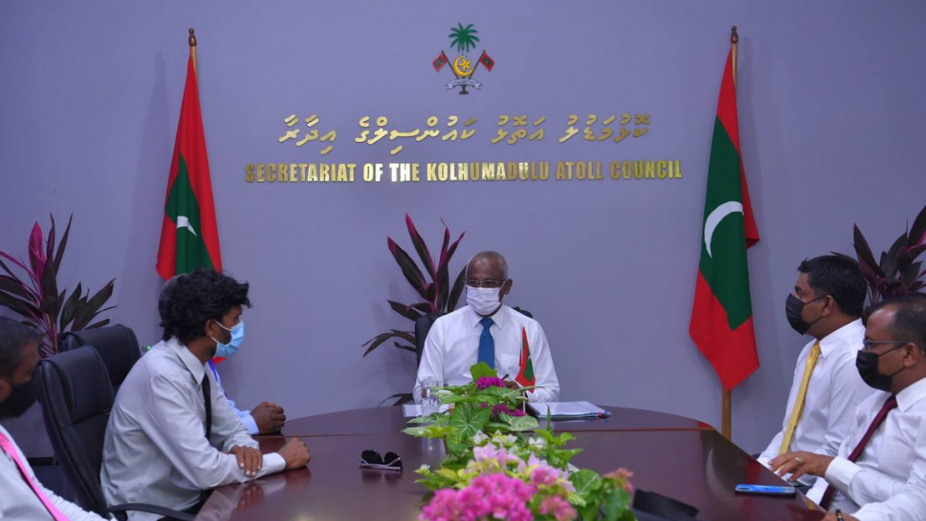 The members of the Kolhumadulu Atoll Council met with President Ibrahim Mohamed Solih on Wednesday afternoon at the Secretariat of the Kolhumadulu Atoll Council in Veymandoo Island. During the meeting, Councillors expressed their gratitude for the close attention President Solh pays to monitor development projects throughout the nation, even with the changes to governance under the amendments to the Decentralisation Act.
Speaking at the meeting, the President highlighted that the primary purpose of his ongoing trip to Kolhumadulu Atoll is to empower and assist councils to utilise the considerable authority councillors are now entrusted with and aid them to deliver the government's decentralised development goals efficiently.
The Councillors shared their concerns and discussed ongoing and planned developmental projects in the Atoll. They revealed concerns from the Kolhumadulu Atoll's residents, such as facilitating more employment opportunities in the area by expanding tourism and other industries, and better utilisation of uninhabited islands in the Atoll. Councillors also expressed their enthusiasm to customise banking services unique to Kolhumadulu Atoll.
President Solih shared updates on the ongoing and future development plans that will impact the residents of the Atoll. Speaking at the meeting, he affirmed that the administration would work with relevant stakeholders to address the concerns raised by the Councillors. He also noted that the government's future plans include developing the fisheries sector and expanding tourism in the Kolhumadulu Atoll. Discussing their concerns regarding utilising uninhabited islands in the Atoll, President Solih updated the councillors with the efforts underway to accumulate updated information to create a precise registry of uninhabited islands.
Following this meeting, the President visited the Veymandoo Health Centre and the Veymandoo Police Station, touring the facilities and speaking with the staff regarding their concerns.
President Solih's visit to Veymandoo Island is the fourth destination in his ongoing trip to seven islands of Thaa Atoll. Cabinet ministers accompany the President, senior officials from the President's Office and a delegation of high-level government officials.