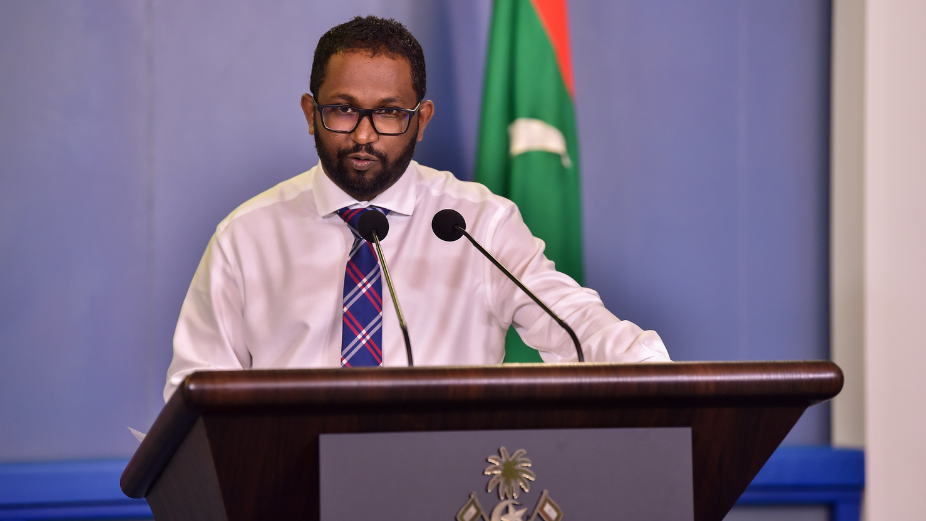 Spokesperson at the President's Office, Miuvaan Mohamed, on Thursday briefed the local media on the latest developments of the administration, at a press conference held at the President's Office.
Speaking at the press conference, Miuvaan highlighted President Ibrahim Mohamed Solih's recent visit to Kaashidhoo Island in Kaafu Atoll to participate in the National Farmers' Day and World Food Day activities. He emphasised the President's view on raising import duties on agricultural produce that can be harvested locally, as well as the administration's decision to entrust the Agro National Corporation (AgroNat) with purchasing and marketing produce from local farmers. The Spokesperson also said that AgroNat had assured farmers that they would oversee the sales of the 17 crops identified as easily harvestable in the Maldives.
Spokesperson Miuvaan emphasised the President's remarks about encouraging farmers to transition to organic farming and the need for a farmer insurance scheme. He reiterated the President's statement that the administration was working to create an effective insurance programme, particularly for the local farmers.
The Spokesperson also noted that seven international sporting competitions have been hosted in the Maldives as per the Presidential pledge to promote the Maldives as a destination for international sporting events. He said that the President had attended the "Volleyball World Beach Pro Tour Maldives Challenge 2022" and the "Maldives International Challenge 2022" badminton tournament.