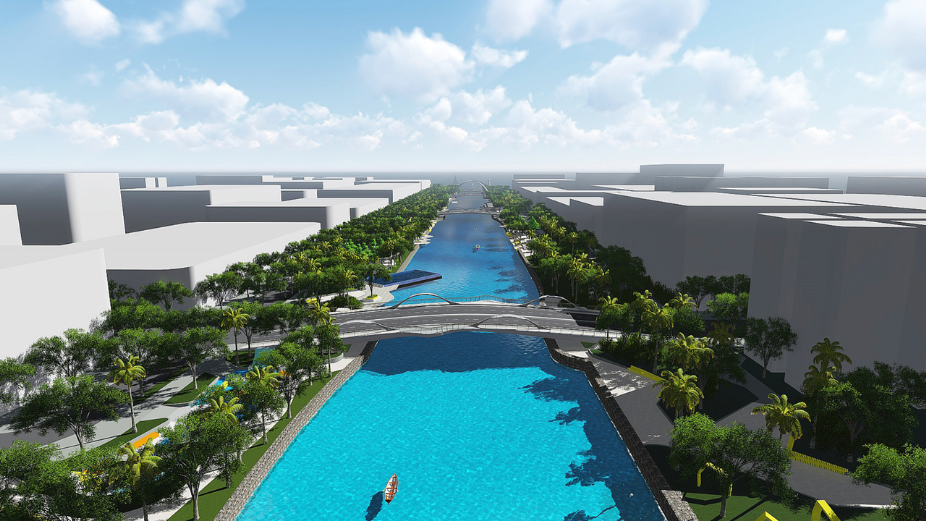 Housing Development Corporation (HDC) is currently working to develop the Channel Park, one of its key projects. The park lies between the connection of Phase 1 and Phase 2 of Hulhumalé, forefront a 50m waterway. Residents who frequent Phase 1 & Phase 2 bridges will be able to easily catch a view of the ongoing works at Channel Park.
A space designed for engagement, interaction and peace, the park is envisioned to be an island retreat in Hulhumalé. When designing the place, architects sought to combine all that is important – accessibility, sustainability, safety and security of residents. A bustling place anticipated in the near future, it will add a unique adornment to the island. F&B outlets, steps ensuing to the waterway, decks for best views of reflective sunsets and sunrises on the waterway that transform to hues of blues throughout the day.
To enhance the Maldivian genius loci, the landscape includes a comprehensive collection of native plants such as coconut palms, small leaved mangroves, hibiscus boninens and tree heliotropes, that easily suit the salty air of Maldives.
A lot more enjoyment will be found after the development reaches full completion, which will feature 14 cafe's. Skatepark tracks, rowing clubs, playgrounds and waterplay for the sport enthusiasts are also in the plan. For a child or the elderly, it's an all-in-one retreat. A continuous foot path will be there at two levels, at road level and 1.4m low channel quay wall level for safe, pleasant and comfortable walking. Bicycle paths will be linked to the bridges transport direction for cyclers to take a breezy stroll.
As it should, every urban agenda of HDC matches the design and planning of this project. The decks have been completed, and before soon, it is hoped to see the Channel Park come together radiating with life, energy and peace.