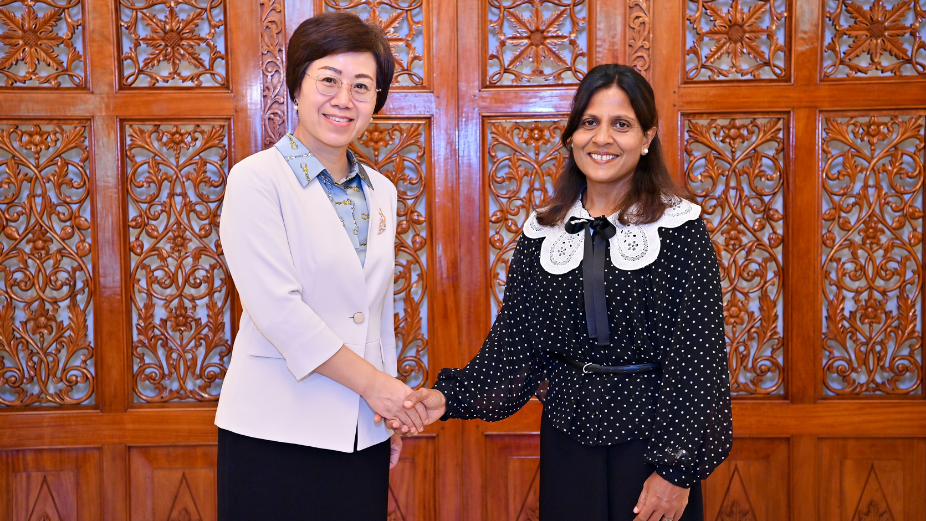 The Ambassador of the People's Republic of China to the Republic of the Maldives, H.E. Wang Lixin, on Monday paid a courtesy call on First Lady Fazna Ahmed. The call was held at the President's Official Residence, Mulee'aage this morning.
At the meeting, the First Lady and the Ambassador conversed about the long-standing friendship and cooperation between the two nations. Noting that this year marks the 50th anniversary of the establishment of bilateral relations between the Maldives and China, Ambassador Ms Lixin highlighted that numerous programmes have been planned to celebrate the occasion.
The First Lady and the Ambassador went on to speak about the disruptions caused to everyday life across the globe due to the Covid-19 pandemic. The Ambassador mentioned some of the difficulties that Chinese visitors face when travelling overseas. Ms. Lixin also highlighted the difficulties posed to the education sector due to the pandemic and went on to commend the administration for its free first degree programme.
The First Lady expressed her satisfaction with the free first degree programme, stating that it had helped alleviate financial burdens faced by a large number of women in pursuing higher education. In conclusion, the First Lady and Ms Lixin both wished each other well and expressed hopes of meeting again.