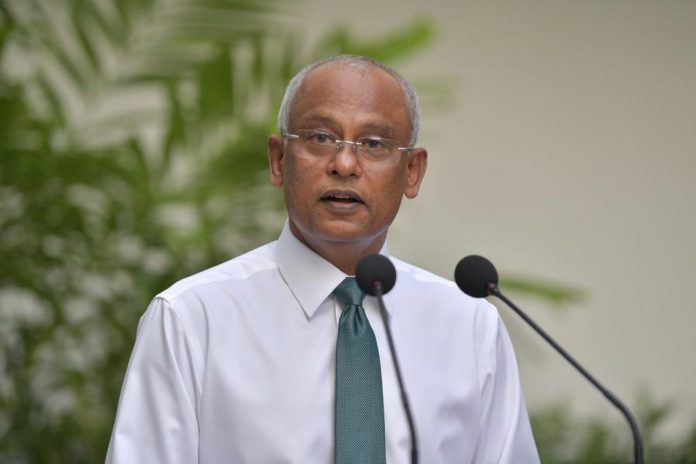 President Ibrahim Mohamed Solih addressed the Maldives Police Service (MPS) this evening, during his visit to Iskandhar Koshi. The President expressed his pleasure at being able to directly address the hardworking individuals of the MPS, after being unable to for so long, while the COVID-19 pandemic had been at its height within the country. He praised the MPS' tireless efforts on behalf of the public throughout the ordeal of the two month long lockdown in the Greater Male' Region. He thanked them for the service and sacrifice they demonstrated at the front-lines in the fight against the pandemic, while being away from their homes and families. Further, he acknowledged that the whole nation owes them a debt of gratitude for their past and ongoing work in response to the coronavirus.
Continuing his address, the President praised the professionalism of the MPS, while highlighting that the Government will give special attention to undertaking progressive reforms that will further enhance the caliber and prestige of the police. These reforms, encompassing legislative and policy changes, and increased resources and training opportunities, will further increase public trust in law-enforcement.
Speaking further, the President emphasized that the Police have a duty to be transparent with regard to ongoing investigations, especially in cases involving misconduct allegations against police officers. He noted that giving timely and accurate facts to the public is what is needed to combat the ongoing proliferation of misinformation regarding sensitive matters.
President Solih also remarked on some of the serious issues confronting the country which have recently, and justifiably, received increased public scrutiny. These include domestic violence against women; an increasing number of sexual abuse cases, including cases involving minors; human trafficking and undocumented immigration; and the abuse and trade of illicit narcotics. The President noted that all of the aforementioned are serious, longstanding issues, some of which have been exacerbated by the pandemic. He expressed that his Administration is duty-bound and firmly resolved to address all of them. Further he stated that law-enforcement have an important role to play in this task, as it is their responsibility to help the Government ensure safe, secure and just communities.