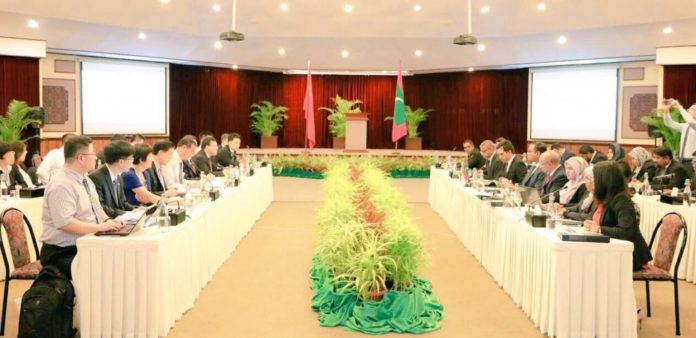 The Ministry of Economic Development revealed that the discussions on "Maldives-China Free Trade Agreement" has ended positively after having 5 meetings regarding this matter leaded by the Minister of Economic Development, Mohamed Saeed.
The final discussions on building this agreement was carried on between 15th to 16th of September in the capital city of China, Beijing.
A press release published by the Economic Ministry stated that with the commencement of this agreement, it will highly benefit and ease bilateral import-export between Maldives and China as China is currently growing to be the biggest ally to Maldives. Moreover, it will open doors for the tourism and fisheries industry of Maldives to market and trade itself with one of the largest economies of the world.
According to Economic Ministry, they are also in the final discussions with Hong Kong to implement a Free Trade Agreement. Additionally, they also confirmed that they have sent invitations to America, United Kingdom, European Union and Japan to implement an agreement for free trade.
The Government of Maldives have continuously working on to seek opportunities for Small and Medium Enterprises in the Maldives to aid in connecting them with the international markets.