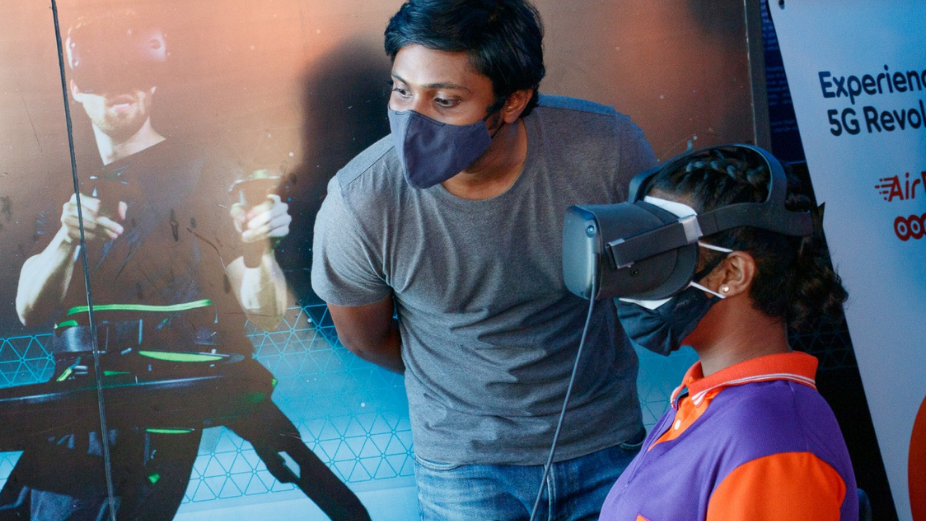 The Eco Org and Ooredoo Maldives partnered with Roboy – a robotics startup based out of Technical University of Munich, to host a robotics-based telepresence event powered by Ooredoo 5G AirFibre which enabled students to virtually teleport themselves from the Maldives to Germany.
"Roboy," is an advanced humanoid robot that uses artificial intelligence, designed to imitate the human body with muscles and tendons, just as humans. Powered by Ooredoo 5G at VR Café., the closed event gave a unique opportunity for ten robotics students from Ghiyassudin International School and Billabong High School to experience teleportation using robots.
 With Roboy 3.0, teleporting is not just about being somewhere else instantly, but about creating value in doing so. It is about strengthening connections between humans, between places, moments and across time, with the goal to become a more sustainable and joint society. This special event gave students a peek into the capabilities of robotics, artificial intelligence, and the internet of things in a 5G-enabled future. Using VR, the students were able to "teleport" themselves to Germany as Roboy, viewing what the Roboy sees and able to control the movements of the robot using telepresence from Male'.
"The robotics industry is expected to revolutionize the future of healthcare, logistics, education, agriculture and many more industries. As we continue our journey towards a Digital Maldives, we are gearing up to connect local communities to the benefits of these emerging technologies. Today, we are excited to partner with Roboy, The Eco Org & VR Café' be a part of this historic event in the Maldives that showcases the transformative power of Ooredoo 5G services. We look forward to future events together with the mutual aim to inspire the next generation of innovators who will lead us into the digital future," said Managing Director & CEO of Ooredoo Maldives, Najib Khan.
"We're excited to partner with an innovative company like Ooredoo Maldives who shares our vision for a sustainable future, and we can't wait to reveal more about what we are working on together" Hilal Agil, Founder and President, Eco Org.
The Eco Org is a non-profit organization based in the Maldives that aims to use innovation to accelerate the transition to a sustainable future.
"Working with The Eco Org and Ooredoo Maldives to bring this truly unique event to pass has been a huge pleasure. We are looking forward to expanding this collaboration and bring our robot to the Maldives, letting everyday people experience the wonders of this unique ecosystem and raising awareness for the impact climate change has on the most pristine – but also fragile – places on our planet," said Rafael Hostettler, General Manager and Legal Guardian of Roboy.
Telepresence robotics is already building exciting, unexpected, and unanticipated bridges. Ooredoo Maldives will continue to enhance its network across the nation in order to connect customers to the best technologies and services that the digital world has to offer.